Our Gift Shop, which is located on the first floor, offers snacks, toys, books, jewelry, flowers, toiletries, and comfort items to our patients and visitors. If you can't visit the hospital, we can arrange to deliver a gift to the patient's room.
Main gift shop
The gift shop is located on the first floor of the Milton S. Hershey Medical Center, next to the Surgical Waiting Room. Visit us if you're looking for:
Due to limited space and to maintain infection control, flowers, plants and balloons are not allowed in some patient care areas. Please check with the patient's nurse before ordering these items. Because some patients have allergies, please request delivery of Mylar® balloons rather than latex. Where permitted, these items are delivered to patient rooms Monday through Saturday.
Penn State and Penn State College of Medicine items are available to ship within the U.S. To place an order please call 717-531-8021 or email HMCGiftshops@pennstatehealth.psu.edu. 
Our volunteers operate the gift shop and all proceeds from our sales directly benefit programs at the Hershey Medical Center.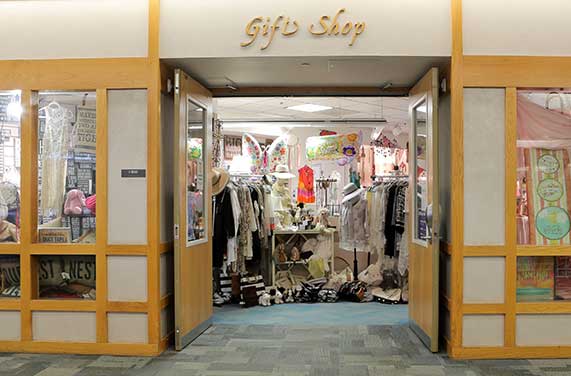 Penn State Store
The Penn State Store, located along the main hallway between the Surgical Waiting Room and the Cafeteria, offers Penn State and Penn State College of Medicine gifts and accessories, apparel, supplies and electronics. 
View a selection of Penn State College of Medicine items available for purchase.
The Penn State Store is currently open with limited hours, please call 717-531-8748 for assistance and to check weekly hours. Orders can be placed by calling 717-531- 8748 or emailing HMCGiftShops@pennstatehealth.psu.edu. Items are available to ship for an additional cost.