Our Gift Shop and Penn State Store volunteers provide essential guidance to all visitors who need help finding that special gift.
The Joseph F. Wall Gift Shop is located on the first floor of the Penn State Health Milton S. Hershey Medical Center in the surgical waiting area. The dedication and commitment of volunteers enables the proceeds of the Gift Shop to be used for the services and care of patients.
Why volunteer?
Y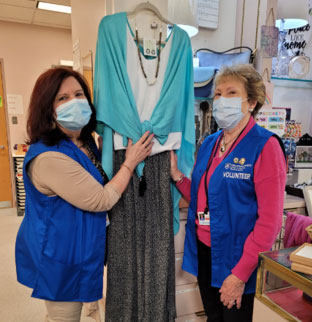 ou will get the satisfaction of working directly with hospital visitors and assisting them by locating the merchandise they need. You will bring smiles to patients by delivering flowers that were purchased at the Gift Shop.
Two people are routinely assigned for each shift at the Gift Shop, so you will also have the opportunity to form friendships with your fellow volunteers.
No prior training is required – just a positive attitude and great people skills. We will train you to handle the Gift Shop tasks.
What will I do as a Gift Shop or Penn State Store volunteer?
Volunteers have a range of responsibilities, including:
Helping visitors with purchases
Delivering flowers to patients
Stocking the shelves
When can I volunteer?
Morning, afternoon and evening shifts are available Monday through Friday. Afternoon shifts are available Saturday and Sunday.
Volunteers must commit to a minimum of 100 hours within the first year and be available the same day and time each week.