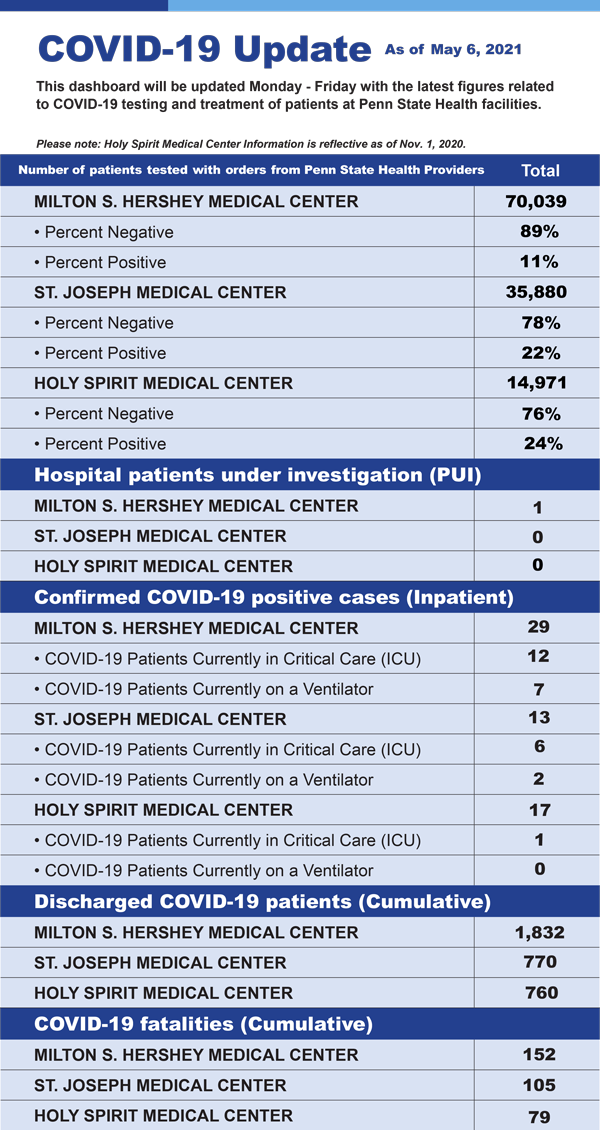 Important Information About Coronavirus Disease 2019 (COVID-19)
Penn State Health is committed to keeping the public informed and helping people find the most up-to-date, reliable information about COVID-19.
We continue to work closely with public health officials to protect the health and safety of all of our patients, visitors and team members. We are assessing the risk of exposure pursuant to the Centers for Disease Control (CDC) and PA Department of Health.
OnDemand COVID-19 screening
Free virtual screenings for COVID-19 are available Monday through Friday from 8 a.m. to 4 p.m. through our telehealth service, Penn State Health OnDemand. Anyone with concerns that they may have COVID-19 may use Penn State Health OnDemand to talk directly with a provider who can evaluate their symptoms and make care recommendations. Download the app, enrollment is free.
Screening vs testing: What's the difference?
Learn the difference between COVID-19 screening and testing on this infographic.
Drive-thru COVID-19 clinic testing hours
Penn State Health Milton S. Hershey Medical Center (Internal Medicine West, Parking Lot A-1, 10 Conference Drive)
Patients will be directed to a parking area, instructed to call to register at the clinic and then directed to enter the clinic. It is not a drive-thru test site.
Monday - Friday: 8 a.m.-5 p.m.
Testing is only for patients who have been evaluated by a provider and given an order for the test. Patients must present their doctor's order, photo identification and insurance card.
Penn State Health St. Joseph
Penn State Health St. Joseph offers COVID-19 testing at two urgent care sites and its Downtown Campus. Patients will remain in their cars for testing at the two new locations.
Located throughout Berks County, the alternate testing sites offer expanded hours of operation:
Penn State Health St. Joseph Urgent Care – Maidencreek 
108 Plaza Drive, Suite 101
Blandon, PA 19510
Monday-Friday: 1-7 p.m.
Saturday-Sunday: 8 a.m.-2 p.m. (beginning Saturday, May 1)
 
Penn State Health St. Joseph Urgent Care – Strausstown 
44 East Ave.
Strausstown, PA 19559
Monday-Friday: 7 a.m.-7 p.m.
Saturday-Sunday, 8 a.m.-2 p.m. (beginning Saturday, May 1)
 
Penn State Health St. Joseph – Downtown Campus
145 N. 6th St.
Reading, PA 19601
Monday, Wednesday and Friday, 1-4 p.m.
 
Patients must have a provider's order, which they may get from any provider or from the OnDemand app. You can find more information on the OnDemand testing here.
Direct all questions to Penn State Health St. Joseph Urgent Care – Strausstown at 610-488-9790.
Penn State Health Holy Spirit
Testing is offered at Penn State Health Urgent Care at 431 N. 21st St., Camp Hill, on the campus of Holy Spirit Medical Center. Anyone with concerns they might have COVID-19 can call 717-763-3730 to schedule a COVID testing appointment. Having an appointment for the test doesn't guarantee you will receive COVID testing. Patients must present their photo identification and insurance card. A co-pay will be collected.
Coronavirus Updates at Penn State Health
For updated information regarding coronavirus at Penn State Health, visit our Newsroom by clicking on the link below.
Penn State Health augments financial services for patients
As patients and families navigate the challenges presented by COVID-19, Penn State Health has enhanced its financial counseling services, adding additional financial counselors and customer service representatives to assist patients and consumers with a variety of new and existing programs.
Learn more about these services
Visitation Guidelines
Penn State Health has revised its patient visitation guidelines. (As of 2/15/2021)
Donations
Penn State Health has the ability to accept donations for staff support.
Temporarily relocating/closing select Medical Group locations
In response to the evolving coronavirus pandemic, Penn State Health Medical Group may need to temporarily close or consolidate physician practices.
If this occurs, patients will be redirected to other clinic sites, and Medical Group Staff will contact those who are affected. Physicians and staff at closed or consolidated sites will be redeployed to other locations, with some physicians serving to provide remote consultation for patients with respiratory and other symptoms through the Penn State Health OnDemand telehealth platform.
When to seek care
If you are experiencing the above symptoms (fever, cough or difficulty breathing) and you have traveled to an affected area or have been in close contact with an individual that has traveled to an impacted area, and you think you need to be tested for COVID-19, please call your health care provider BEFORE visiting their office. Be sure to inform them of your symptoms and travel history or exposure to a person diagnosed with the virus.
Coronavirus symptoms
The CDC reports that people with COVID-19 have had a wide range of symptoms, ranging from mild symptoms to severe illness. These symptoms may appear 2-14 days after exposure:
Fever or chills
Cough
Shortness of breath or difficulty breathing
Fatigue
Muscle or body aches
Headache
New loss of taste or smell
Sore throat
Congestion or runny rose
Nausea or vomiting
Diarrhea
But having one or more of these symptoms does not necessarily mean you have the illness. It is often difficult to tell the difference between COVID-19 and other illnesses, such as the flu.
How Penn State Health is Responding
With guidance of our emergency special pathogens team, Penn State Health has plans in place to manage patients with special illnesses while safeguarding patients, hospital visitors, health care workers and the community at large.
Screenings are in place for all intake staff to identify higher risk patients.
If a patient tests positive for the illness, the appropriate protocol is already in place, including approved rooms dedicated for COVID-19 admissions.
Penn State Health has distributed personal protective equipment and patient hygiene kits to all clinic and practice sites.
Penn State Health continues to monitor the availability of additional PPE in the event that more supplies are needed.
Penn State Health is closely monitoring COVID-19 illness as well as developments in its diagnosis and treatment.
To help ensure the safety of our staff at Penn State Health and Penn State College of Medicine, COVID-19 screenings of all staff are taking place daily.
Penn State Health began provides ear loop masks to all employees. For added protection, employees who work in clinical areas with direct patient interaction wear eye protection, as well.
What the Public Should Do
Because it is currently the cold and flu season, the CDC recommends getting the flu vaccine if you have not already. Influenza symptoms can mimic COVID-19 symptoms. Flu vaccine is available at all Penn State Health primary care and urgent care sites.
Individuals should continue to exercise standard safety measures, including not touching your eyes, nose and mouth with unwashed hands.
Wash your hands often with soap and water for at least 20 seconds, especially after using the bathroom; use an alcohol-based hand sanitizer if soap and water are not available.
Do not go to work if you are sick.
If you are sick or have been in contact with someone suspected of having COVID-19, call your health care provider immediately for recommendations on how best to be evaluated. Do not go to a hospital, urgent care site, or outpatient clinic without calling ahead to report your travel history.
Always cover your mouth and nose with a tissue when you cough or sneeze or use the inside of your elbow.
Avoid close contact with people who are sick.
Cover your nose and mouth with a mask when around others, remembering that you could spread COVID-19 to others even if you do not feel sick.
Clean and disinfect frequently touched surfaces daily (e.g. tables, doorknobs, light switches, countertops, handles, desks, phones, keyboards, toilets, faucets, and sinks).
Be alert for symptoms by monitoring your health daily.
Free virtual screenings for COVID-19 are available Monday through Friday 8 a.m. to 4 p.m. through our telehealth service, Penn State Health OnDemand.
For information about symptoms, illness severity, treatment and prevention steps, and current CDC travel warnings, visit the CDC website.