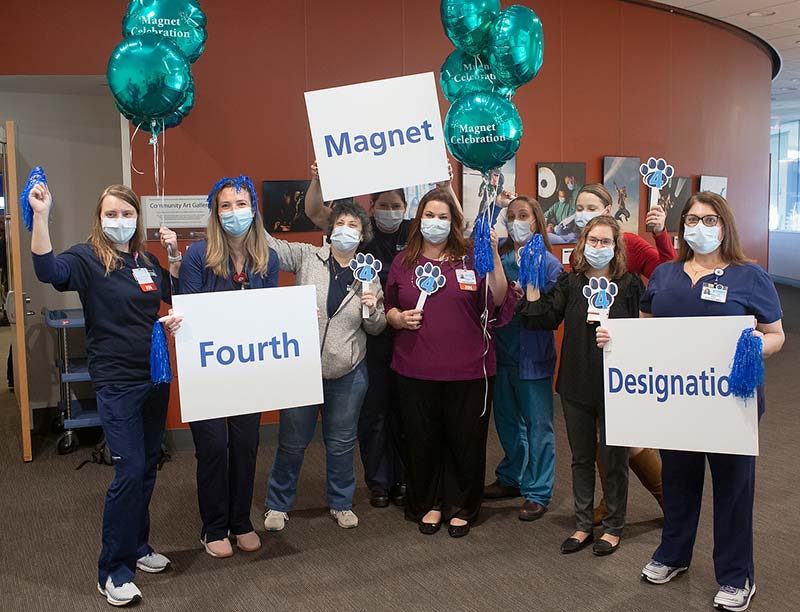 Excellence in nursing
Magnet designation is an accreditation earned by less than 9% of registered hospitals in the U.S. In 2022, Penn State Health Milton S. Hershey Medical Center earned this honor for the fourth time. 
Nurses at the Milton S. Hershey Medical Center strive every day to deliver the highest quality of care to patients and their families. So, it's especially gratifying to be recognized with a fourth Magnet designation. 
In issuing this redesignation, the American Nurses Credentialing Center (ANCC) singled out Hershey Medical Center 1) for a commitment to patient safety by reducing falls with injury in the outpatient setting; 2) for patient satisfaction in the ambulatory setting, underscoring a commitment to patient-centered care; and 3) for fostering innovation and partnerships, with a goal of improving patient outcomes and operational excellence. 
Recognition as a Magnet hospital puts the medical center in an elite group of organizations worldwide. This achievement demonstrates the dedication all our caregivers have to excellence and achieving the best possible outcomes for our patients, our organization and our community.
Milton S. Hershey Medical Center nurses celebrate latest Magnet redesignation