Penn State Health - Who We Are
Penn State Health is a multi-hospital health system serving patients and communities across 29 counties of Pennsylvania. Our mission is to improve health through patient care, research, education and community outreach.
The system includes: 
Penn State Health Milton S. Hershey Medical Center, Hershey, Pa. 
Penn State Health Children's Hospital, Hershey, Pa. 
Penn State Cancer Institute, Hershey, Pa. 
Penn State Health Hampden Medical Center, Enola, Pa. 
Penn State Health Holy Spirit Medical Center, Camp Hill, Pa. 
Penn State Health St. Joseph Medical Center, Reading, Pa. 
Penn State Heath Lancaster Medical Center, Lancaster, Pa.
Pennsylvania Psychiatric Institute, Harrisburg, Pa.
2,450+ physicians and direct care providers at 225 outpatient practices
Joint ventures:
Penn State College of Medicine is located on the campus of the Milton S. Hershey Center and partners with Penn State Health to improve lives through research and education.
Facts and Statistics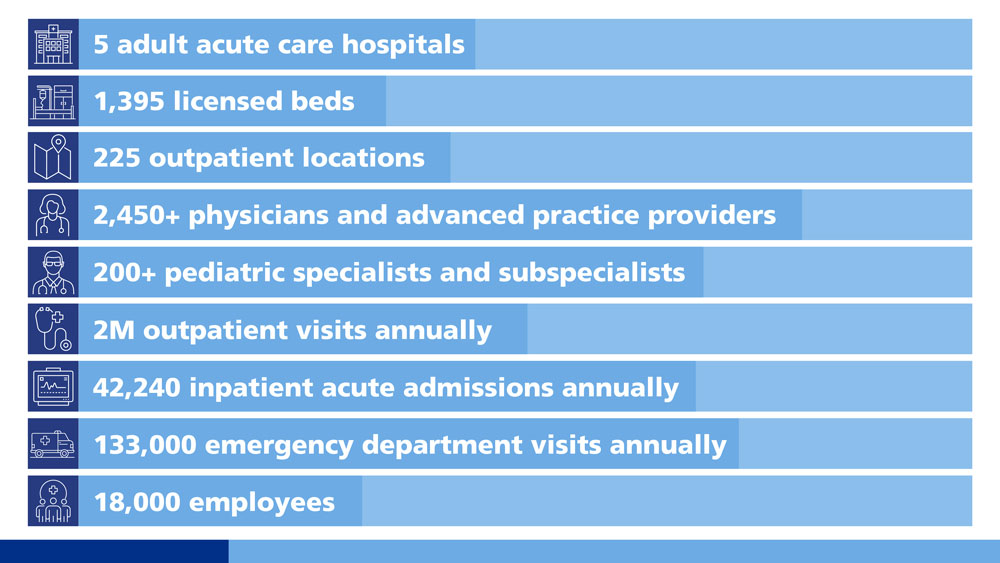 Our Story
Beginning with Hershey Medical Center in 1970, Penn State Health has grown to include five adult acute care hospitals, a children's hospital and a variety of specialty hospitals, joint operations and specialty sites.
In 2017, Physicians' Alliance LTD, the largest independent physician practice group in Lancaster County, joined Penn State Health. That same year, Penn State Health partnered with Highmark Health to create a value-based, community care network.
Holy Spirit Health System, based in East Pennsboro Township, Pa., became part of Penn State Health in 2020.
Penn State Health Hampden Medical Center, a $300 million acute care hospital in Enola, Pa., opened its doors to patients in Oct. 2021.
Penn State Health Lancaster Medical Center, a five-story acute care hospital in East Hempfield Township, Lancaster County, opened its doors to patients in Oct. 2022.
Mission, Vision and Values
All patients receive world-class care based on our mission, vision and values:
Mission
Continually improve the health and well-being of the people of Pennsylvania and beyond
Provide excellent, compassionate, culturally responsive and equitable care
Educate and train health care professionals
Advance evidence-based medical innovation through research and discovery
Vision
Our vision is to be Pennsylvania's most trusted health care organization.
Values
Penn State Health recognizes its employees for fulfilling the RITE values of the organization:
Respect
Integrity
Teamwork
Excellence
Learn More About Penn State Health
Find a doctor near you or learn about other Penn State Health locations.