Penn State Health Hampden Medical Center is ready to provide all the care your growing family needs. Patients who want the expertise of Penn State Health can find it right here, close to home.
Located on the second floor of Hampden Medical Center at 2200 Good Hope Road, Enola, just off the I-81 Wertzville Road exit, our Women and Babies Center was designed with you and your family in mind. Our team of physicians, certified nurse midwives and labor and delivery nurses provide compassionate, experienced care through every stage of your pregnancy. To schedule an appointment for prenatal care, call 717-763-9880.
Expert care and extraordinary comfort
At the Women and Babies Center, we want you to be as comfortable as possible. The center features:
Spacious private rooms and bathrooms
Dedicated labor and delivery suites
Cesarean delivery rooms
Antepartum and postpartum rooms
Level II Neonatal Intensive Care Unit
A special celebratory meal for moms and their support persons
Additionally, parking is both free and convenient.
Coordinated specialty care
Obstetric and neonatal patients who need advanced specialty services will benefit from the locally coordinated care provided between clinical teams at Hampden Medical Center, Penn State Health Milton S. Hershey Medical Center and Penn State Health Children's Hospital. Our Children's Hospital in Hershey has a Level IV Neonatal Intensive Care Unit (NICU) - the only NICU in the region prepared to handle the most complex cases.
Tour the Women and Babies Center
Take a few minutes to take a virtual tour of the Women and Babies Center at Hampden Medical Center. If you'd like to visit in person, we offer free tours on the second Thursday of every month, from 5 to 7 p.m., and the third Monday of every month, from noon to 2 p.m. To register for this free tour, call Childbirth Education at 717-981-8238 or email [email protected].
You can tour the Women and Babies Center at Hampden Medical Center on the second Thursday of every month, from 5 to 7 p.m., and the third Monday of every month, from noon to 2 p.m. To register for this free tour, call Childbirth Education at 717-981-8238 or email [email protected]
Why Choose Our Women and Babies Center for Your Labor and Delivery?
At our Women and Babies Center, your labor is supported by a team of nurses who are trained to help manage and reduce pain through techniques such as positioning, breathing and relaxation. Epidurals and medications are also available when medically appropriate. Immediately after delivery, we'll care for your new infant at your bedside, and you'll hold your baby skin-to-skin. Cord clamping is delayed for one minute for all medically stable infants. Plan for your infant to stay in the room with you and your family so you can get to know each other and participate in every moment of those precious first few days.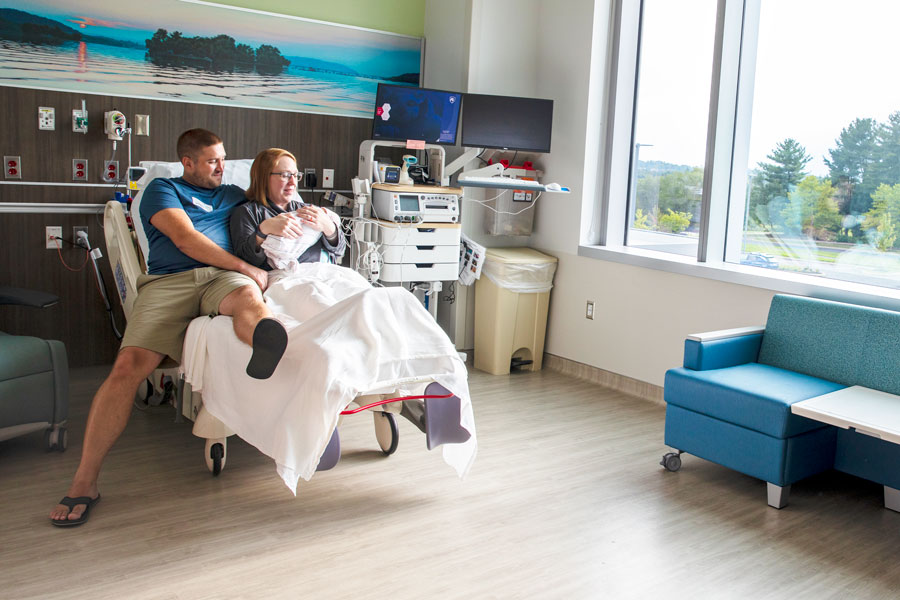 Childbirth Education Classes
Childbirth and Early Parenting Classes
Penn State Health Hampden Medical Center provides comprehensive childbirth education programs taught by certified childbirth educators. The following classes are held in the Auditorium at Holy Spirit Medical Center, 503 N. 21st Street, Camp Hill.
For more information on the childbirth education classes and to register, contact, Heidi Moretz a 717-981-8238 or [email protected].
Childbirth Preparation
This class covers the phases/stages of labor and delivery, comfort measures and breathing techniques to use during labor, pain medication options and what to expect postpartum.  We recommend attending in the last four months of pregnancy. Two day/time options are available:
Four-evening Wednesday series, from 6 - 8 p.m.
One Saturday session, from 9 a.m. - 4 p.m.
For more information on the childbirth education classes and to register, contact, Heidi Moretz a 717-981-8238 or [email protected].
Web-Based Virtual Childbirth Education Option
We are partnering with Penn State Health Milton S. Hershey Medical Center to offer an online childbirth education option. Please email Kristi Ecenroad or call 717-531-9681 for more information.
Comfort Measures Crash Course
This class covers comfort measures and breathing techniques for labor. It can be taken as a refresher class if you've given birth before or a condensed class if you are not able to attend our other childbirth classes but still prefer an in-person class.
One evening class
6 - 8 p.m.
For more information on the childbirth education classes and to register, contact, Heidi Moretz a 717-981-8238 or [email protected].
Baby Boot Camp
This class teaches infant care from birth to one year, including feeding, bathing, diapering and home safety.
Two-class series on Tuesdays
6 - 8 p.m.
For more information on the childbirth education classes and to register, contact, Heidi Moretz a 717-981-8238 or [email protected].
Breastfeeding Basics
You will learn basic techniques for positioning and latch, how to assess a good feeding, mechanics of producing milk, pumping and storage of breastmilk and available resources.
One evening class on the first Tuesday of the month
6 - 8 p.m.
Big Brother/Big Sister Class
Help prepare your 3- to 8-year-old to become a big brother or big sister with this one-and-a-half-hour, one-evening class. Children will learn how a newborn is different from them and basic ways to help keep baby safe at home, as well as practice age-appropriate infant care. Class is held on a Thursday evening from 6 to 7:30 pm. Cost is $15.
One evening class held once a quarter on the third Thursday of the month
6 - 7:30 p.m.
Mother's Circle
All are welcome. Share your journey and connect with other moms and future moms at our weekly support group. For breastfeeding families, our lactation team will be available to answer your questions and address your concerns. We will be sharing our stories and discussing anything and everything motherhood related. Let's build a village together! No registration is necessary.
Every Wednesday 11 a.m. – noon
2nd Floor, Women and Babies lounge, Hampden Medical Center
Call for more information 717-981-8237 (lactation) or 717-981-8238 (childbirth education) or email: [email protected]
Preparing for Your Stay
Insurance and Birth Certificate Information
Before you arrive, verify your insurance coverage for the hospital stay and for a circumcision if you know you're having a boy and want this procedure. Bring the appropriate insurance cards to the hospital with you. Be sure to have your Social Security number and parents' date and place of birth for baby's birth certificate paperwork.
Car Seat
Pennsylvania law requires a rear-facing car seat until 2 years of age - every infant must go home from the hospital in one. Used car seats must be less than 6 years old and never have been in a car accident.  Learn to use the car seat before your baby arrives. Car seat installation can be verified by a certified child passenger safety technician at various locations. Call 717-531-SAFE (7233) to make an appointment. The National Highway Traffic Safety Administration has helpful instructions, too. Go to www.safercar.gov or www.seatcheck.org.
What to Pack
Labor Bag
Cell phone and charger with long cord
Focal point, cards, lip balm, aromatherapy (no open flames)
Comfort tools (back massagers, etc.)
Hair ties or clips to secure your hair
Light snacks
After Delivery
Pajamas (if you don't plan to use hospital gowns)
Robe
Slippers/Socks
Nursing bra with good support, no underwire
Toiletries (toothbrush, toothpaste, shampoo, deodorant)
Hair dryer
Going home clothes for mom and baby
Outfit for baby if interested in pictures
Name and office phone number of pediatrician
Infant car seat carrier on day of discharge
Coaches
Night clothes which fully cover your body from the knees up.
Shoes/slippers (needed when walking around the room/hallways)
Jewelry and Contact Lenses
Leave all jewelry at home, except necessities
You may wear a watch most of the time
Bring glasses if you wear contact lenses. Contact lenses may need to be removed, so bring solution if needed
Know Where You are Going
When your provider instructs you to come to the hospital, where you enter depends on the time of day. If the Main Entrance is open (M-F 6am-8pm, Sat/Sun 8am-8pm), please enter there, make a left at the Information Desk, go to the West Elevators and come up to the second floor lobby of Women's and Babies. Use the call box to the right of the double doors to contact the unit for entry.
If you are entering after hours, please use the Women's Services entrance (at the statue of the crouching tan Nittany Lion), enter the first set of doors and stop at the second set which will be locked. Use the call button on the right to notify Women's and Babies unit that you have arrived and someone will respond to let you enter.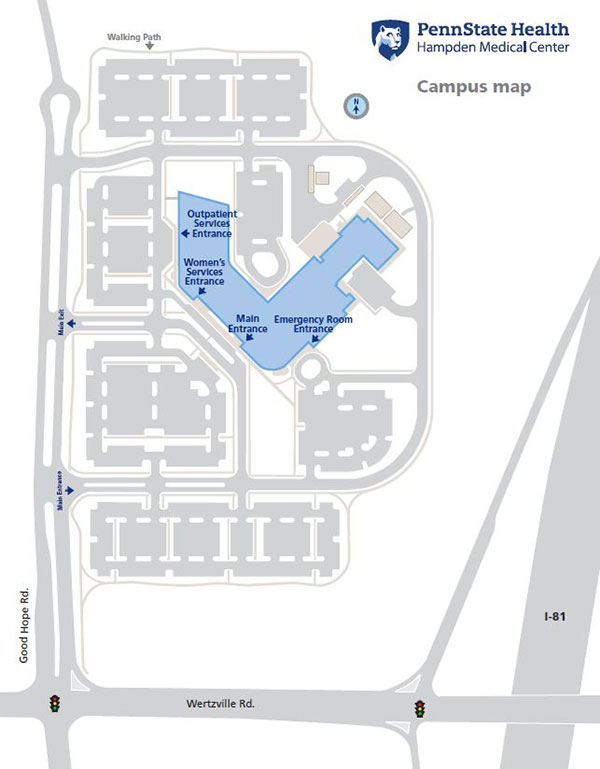 Visitors
Check with the main switchboard or front desk for visitation times. Two support people can be present to help you throughout your stay. Siblings of the baby, any age, may visit, but for safety reasons may not stay overnight. Children who are 12 years old or older may visit and must be accompanied by another adult at all times. All guests must be healthy with no evidence of a cold or recent exposure to communicable diseases. All guests should wash their hands thoroughly before holding your baby.
Neonatal Intensive Care Unit
Our Level II Neonatal Intensive Care Unit (NICU) is for babies who need a higher level of care due to a premature birth or a medical complication that requires close observation and treatment. Our littlest patients have access to state-of-the-art equipment in a unit that is staffed around the clock by neonatologists, neonatal nurse practitioners and specially trained neonatal nurses. These providers have extensive experience in caring for the premature, high-risk or sick newborn. A low nurse-to-patient ratio means each infant receives superb, individualized care. Our team has a direct link to all resources and specialists that the Penn State Health network has to offer.
The NICU staff understands how therapeutic skin-to-skin care can be for the healing of both baby and parents, so this will become part of each parent visit as soon as it is possible. Our goal is always to engage parents in the care of their baby - including ongoing education and support as they prepare for taking baby home.
Our NICU nurses are also skilled in supporting breastfeeding mothers, and lactation services are available on a daily basis. If needed, pasteurized donor human milk is available.
Meet our Neonatology Team
AngelEye Camera System
When a baby requires care in the NICU and parents are unable to be present, Hampden Medical Center offers the AngelEye Health Camera System. The AngelEye system is a secure, HIPAA-compliant, internet-based video solution. A camera is placed at the baby's bedside in the NICU, and a live feed is available for family and loved ones to view on a laptop, tablet or smartphone. Parents will receive their child's camera login information from the NICU staff, which they can share with family and friends, if they desire. Parents serve as the account manager and also manage their family and friends' accounts.
This program was designed to facilitate bonding and peace of mind even when parents, family and friends are unable to be present in the NICU. Some of our babies remain in the hospital for weeks. With the use of AngelEye, parents can stay connected and be reassured that their baby is being well cared for in their absence.
NICU staff also use the cameras for virtual rounding, which means families and staff can communicate when they cannot be present during the routine care of their baby.
Support after Delivery
Family-centered Care
Our team of postpartum nurses are trained to support you during labor and after delivery, so you will continue to see the same familiar faces. Most families will be with us for 48 hours after delivery.
The nursing staff will make sure you know all about baby care before discharge, such as bathing, diaper changing and soothing. Your baby's doctor will examine your baby after birth and once each day, unless your baby has special needs.
Security is a priority. Mom, baby and partner will have bracelets with matching numbers. When baby is brought back to your room from any procedure and at the time of discharge, bands are checked. Baby will wear a "Hugs" transmitter, a "baby GPS" that monitors baby's location in the hospital. The transmitter is removed at discharge. 
Staff will assist you with required paperwork for your baby's Social Security card and birth certificate and will submit completed paperwork to the state. After you leave the hospital, your baby's medical records will be transferred to the pediatrician of your choice in advance of baby's first appointment.
Breastfeeding support and lactation services
Our lactation consultants are certified by the International Board of Lactation Consultant Examiners and provide a full range of lactation services to assist with normal newborn, as well as more complex feeding issues. All mothers deserve hands-on support and education to be able to meet their feeding goals. We start all families off with the information and skills they need to breastfeed successfully at home. If you plan to breastfeed and your infant requires medical supplementation, donor breast milk is available to all babies.
If you have questions, you can call our Breastfeeding Warm Line at 717-981-8237. Leave a voicemail for the Hampden Medical Center lactation team to receive breastfeeding support over the phone or to schedule an outpatient visit.
Our Experts in Care
At Penn State Health, we offer a full spectrum of women's health care. We use a team approach to meet our commitment of providing the very best obstetrical care. The team at Hampden Medical Center is made up of obstetricians and certified nurse midwives. A certified nurse midwife is a registered nurse with a master's degree in midwifery and advanced training in personalized care during pregnancy and childbirth. The midwifery model of care reflects the view that birth is a normal life event and can be managed with limited intervention, in most cases. Our midwife team is available 24/7 to support you during your labor and delivery.
To schedule an appointment for prenatal care, call 717-763-9880.
Our providers see patients at the following locations:
Penn State Health Obstetrics and Gynecology
American Office Center
423 N. 21st St., Suite 202
Camp Hill
Penn State Health Obstetrics and Gynecology
2200 Good Hope Rd., Suite 1076
Enola
Meet our Providers
View their profiles and select the one that's right for you.