Purpose of Program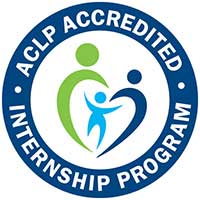 The child life internship program at Penn State Health Children's Hospital strives to offer students a well-rounded experience through hands on clinical work as well as educational training essential for the child life field. Our goal is to develop highly competent job ready child life specialists by the end of the internship.
The Child Life Program at Penn State Health Children's Hospital provides direct patient care to approximately 90 inpatient pediatric beds, 56 NICU beds and several outpatient areas that serve pediatric patients. As a teaching hospital, Penn State Health Children's Hospital provides a positive learning environment for students, and offers additional educational resources such as Schwartz Rounds, in-services, and the Harrell Health Sciences Library. The child life program individualizes the internship to meet each student's unique learning needs.
Our ACLP accredited internship program offers over 600 hours of clinical time (40 hours a week over 16 weeks) during the spring and fall semesters. Each intern will complete two 6-week rotations in different areas of the hospital as well as shadow days on other units to maximize exposure to a variety of clinical settings, acuity levels, and diagnoses.
Within our Child Life internship program at Penn State Health Children's Hospital, we are committed to creating a culture that is inclusive of all regardless of race, ethnicity, gender, religion, age, language, ability/disability, sexual orientation, socioeconomic status, or geographic region. We desire to create a space for everyone to feel welcomed, respected, and valued throughout their learning process and to provide unique opportunities to grow in the child life profession. Please visit Penn State Health's Diversity, Equity, and Inclusion webpage to gain further insight into how this is being addressed by the organization.
Penn State Health Children's Hospital is accepting applications for the Spring 2024 internship.
We are no longer able to accept non-affiliated students.