Penn State Health's Commitment to Diversity and Inclusion is Grounded in History
Penn State's football team was scheduled to play the University of Miami on Nov. 29, 1946. At that time, the University of Miami was racially segregated, and Penn State had two Black players. Because of University of Miami's stance on integration, Penn State would have had to play the game without its two Black players. Penn State felt that no player should be denied the opportunity to play football because of their race. Rather than exclude the Black players, Penn State's team voted to cancel the game.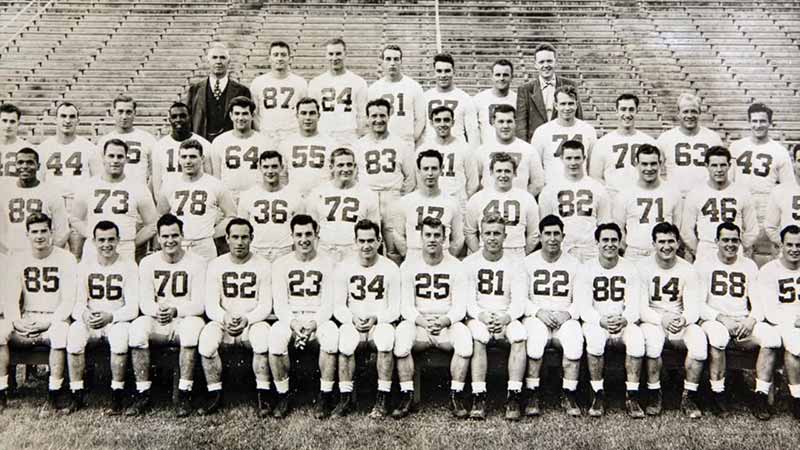 This commitment to inclusion and respect lives on at Penn State Health today for our employees, patients, and communities. Who we provided care for yesterday is very different from who we will care for tomorrow. The U.S. Census bureau reports that by 2050, racial and ethnic minority groups will make up more than half of the nation's population. This will mean that the racial/ethnic profile of our workforce and patient population will change as well. Women currently make up almost half of the nation's population and more than 70% of our workforce as we continue to strive to increase the representation of women in leadership roles. 
As an organization, we are also seeing an increase in employees and patients from different religions, military backgrounds, languages, and other areas of difference. At Penn State Health, we are committed to providing concrete, proactive services that lead to healthier outcomes for our patients and a more respectful, supportive and productive work environment for our employees.
Penn State Health's Organizational Goal for Inclusion
In September 2020 the Penn State Health Board approved the establishment of an organizational goal for 2020-2021 that focused on five areas: 
To establish and implement an introductory program on the definitions and impact of unconscious bias and microaggressions and the need for employees to become upstanders, which are individuals who intervene when there have been incidents of unconscious bias and microaggressions; 
To increase the awareness of our diverse employee affinity groups and their events that increase cultural awareness; 
To develop and deploy an interview tool (often referred to as the "Rooney Rule") to increase the diversity of interview candidates and, ultimately, increase the diversity of our new hires; 
To increase the awareness of our newly established policies that advance a zero tolerance for willful discrimination by employees and enhance mutual respect by prohibiting discrimination by patients; 
And to establish a hotline for individuals to report incidents of bias and microaggressions.
Our mission and vision include a commitment to providing culturally responsive care for all patients. 
In September 2020, the Penn State Health Board also approved a modification of the health system's mission and vision to increase a focus on skills necessary to provide quality care for our increasingly diverse patient population. The mission now provides that we will "continually improve the health and well-being of the people of Pennsylvania and beyond..." and one of the ways we will accomplish this is by providing "patients with excellent, compassionate, culturally responsive and equitable care." Likewise, our vision is to be Pennsylvania's most trusted health care organization. One of the ways to accomplish this is by "delivering excellent care, combining the most advanced and innovative techniques in medicine with compassionate and culturally responsive service for patients, families and communities." Learn more about our specific goals around diversity, equity and inclusion.
Gender Affirming Care at Penn State Health
Penn State Health adheres to the standards of care outlined by the American Academy of Pediatrics, the Society for Adolescent Health and Medicine, the American College of Obstetricians and Gynecologists, the World Professional Association for Transgender Health and other professional organizations in providing medically necessary, gender-affirming health care to minors.
We are committed to protecting the privacy and dignity of patients receiving gender-affirming care and counseling and their families.
Penn State Health does not permit intolerance directed at any individual patient, family member or caregiver based on aspects of diversity such as race, ethnicity, gender identity or religion.