The Child Life Program at Penn State Health Children's Hospital promotes the positive development of children, teens and families by providing age-appropriate programming to build coping skills and reduce emotional distress.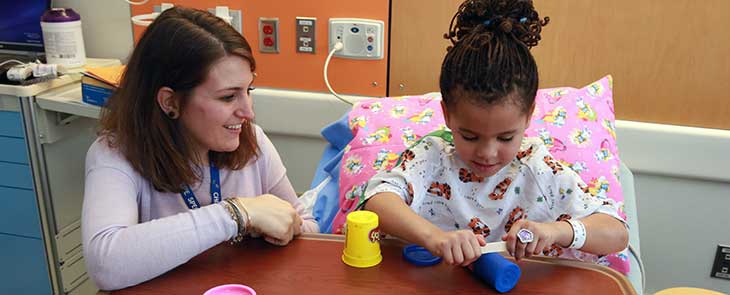 Supporting children and families at every stage of care
Child Life staff help children and families prepare for and cope with the stress that can come with health problems and hospital stays.
We advocate for patients' and families' well-being through therapeutic play, education and emotional support.
Empowering families at home and in the hospital
Child Life staff provides a variety of support services to the children of central Pennsylvania.
Child Life staff help children and families feel better about surgeries, procedures, and hospital stays through medical play, photos, tours and discussions. They share information that's specific to each patient, and at the right level for his or her age and understanding.
Medical Play
Child Life Specialists help patients know what will happen before, during and after a surgery or hospital stay. They help children and their families:
Learn about the things that will happen during their stay by using:

Medical dolls
Photo books
Hospital equipment

Express their feelings and concerns, and clarify what will happen at every step.
Practice positioning, and learn distraction and relaxation techniques to help kids better cope with tests and procedures.
Medical Play Kits at Home
Hospital stays can be scary for children. Playing "hospital" can help children understand and feel better about their hospital stay. During play, children can "be in charge." They can share their ideas and show their feelings. With a supportive adult and a few supplies, medical play can be an important and fun activity for children.
Supplies include
Stuffed animals or dolls
Band-Aids
Stethoscopes
Needleless syringes
Operating room (O.R.)  hat, mask and gloves
Scissors  (if your child can safely and comfortably use scissors)
Tape
Tongue depressors
Thermometer
Fisher Price Medical Kits are available in most toy stores.
You have a role in medical play. Supervise your child's medical play and engage with your child. This helps you be aware of things your child may not understand.
Allow enough time to play without interruptions.
Help children talk about their feelings and actions. Ask questions like:

"How are you going to help your patient?"
"How does Mimi feel about getting shots?"
"Does MiMi get mad when she has to get a shot?"

Let children be in charge of their play, starting and stopping as they choose.
Avoid asking too many questions by talking to your child about what they are doing based on what you see. For example:

"I see that Adrianne has three Band-Aids on her leg."
"You are so gentle when you help Adrianne get better."

If the play might hurt the child, others or the environment, find a safer place or safer way to play.
Encourage children to use dolls or stuffed animals for patients instead of people. That way they remember the play is make-believe.
With your support and understanding, children can use medical play to help make hospital experiences easier to understand and tolerate.
Outpatient Services
Outpatient Child Life services are provided in Pediatric Surgery, Pediatric Radiology, Radiation Oncology, and Hematology/Oncology outpatient clinics with extended services to other pediatric specialties by staff or family request.
Our services include
Helping you and your child prepare for procedures, surgery, tests and hospital stays
Accompanying your child during procedures to provide coping strategies such as distraction, guided imagery, and deep breathing
Offering personalized patient tours
Offering activities to relieve stress and anxiety, and to normalize the healthcare environment
Other resources
If you have questions about our services and how we can help, please call us at 717-531-8366 or email [email protected].