The Music Therapy Program at Penn State Health Children's Hospital uses music and music activities to promote healing and help children adjust to being in the hospital.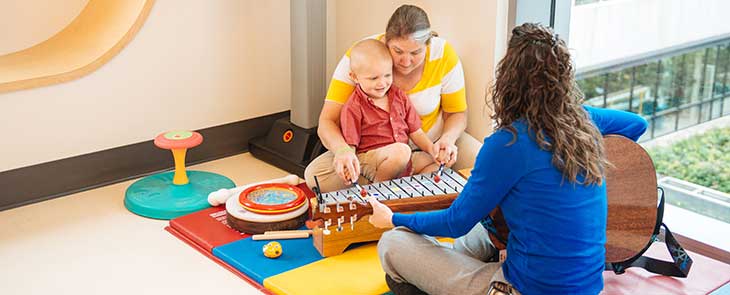 What is music therapy?
Music therapy addresses physical and emotional needs of patients and their families. During music therapy sessions, children participate in music-based activities that have been carefully selected and presented by a board-certified music therapist. Sessions may be provided in a group or individual setting. Children may sing, play, move, listen, or create. The goal is to help make them feel normal during their hospital experience, minimize any pain, and provide an outlet for self-expression.
Patients can choose from a variety of instruments to play (and in a variety of shapes, sizes, and colors), including:
Maracas
Rhythm sticks
Castanets
Tambourines
Drums
Music therapists are part of the medical team and work collaboratively with doctors and nurses to complement the care they provide. We assess patients each time we work with them so that we can tailor sessions to their needs. We address the following areas:
Pain, anxiety, nausea, sleepless 
Emotional coping and adjustment
Functional rehabilitation and developmental activities
Limited meaningful leisure
Family coping during end-of-life care
Our music therapists work with a variety of cultural and faith backgrounds, using music to help families stay connected to their heritage and traditions. We also have experience with non-English-speaking and non-verbal children who enjoy using music as a common language of communication. If you'd like your child to participate in music therapy at the Children's Hospital, please speak with your doctor or nurse.
I'm not a musician entertaining, I'm truly a part of the therapy team, working on individual goals for that child and family.
Marissa Aulenbach, board-certified music therapist
Therapists, Children's Hospital patients say thank you in song
For months, music therapists and patients at the Children's Hospital pored over lyrics, banged bongos and strummed guitars – all in preparation for their big moment.
They got it at THON 2020, when a group of them took the stage to say thanks with a song in front of a roaring crowd at State College. This year, it was their own version of Imagine Dragons' "Believer."
Songwriting is a tradition at the annual event, which benefits Four Diamonds and the Children's Hospital.
"Back in the '90s, so many families were talking to us about what THON meant to them and how much they appreciated everything the students were doing for them," said Jan Stouffer, a board-certified music therapist at Hershey Medical Center, who helped work on the song. "We thought what better way to say thank you than to write a song about it."
This is the 10th time the music therapists and their patients have produced a song for THON.