Penn State Health Lancaster Medical Center staff create new care experience
"The hospital is an opportunity not only to build a state-of-the-art building, but also to create a new health care experience for patients, the community and care providers," says Barbara Zuppa, vice president and chief nursing officer at Penn State Health Lancaster Medical Center.
Relationship-based care
Relationships are at the heart of the vision for the 341,000-square-foot, six-story medical center, located at 2160 State Road in East Hempfield Township.
"We're creating a relationship-based model of care delivery for patients, families, colleagues and self," Zuppa says. "That's what attracted me - the opportunity to build from the ground up and work with leaders who share that vision of creating very customized, person-focused care."
Teams that reflect the community
"We have an intentional focus on the diversity of our workforce," says Madeline Feliciano-Weiser, a nurse manager with the medical-surgical unit. "We want to make sure the individuals are a true representation of the communities we serve. That's important in building trust because patients want to have someone who understands their history … and how it plays into their health care."
Staff work to incorporate respect, integrity, teamwork and excellence in every interaction they have, whether with patients, families, colleagues or vendors, Feliciano-Weiser adds.
Reflecting the diversity of the community means staff can share patients' cultures and stories, says Lance Whitehead, a registered nurse in the emergency department. "We can have that connection with patients, especially when it comes to creating a setting where patients who feel vulnerable can be honest about what's going on with them."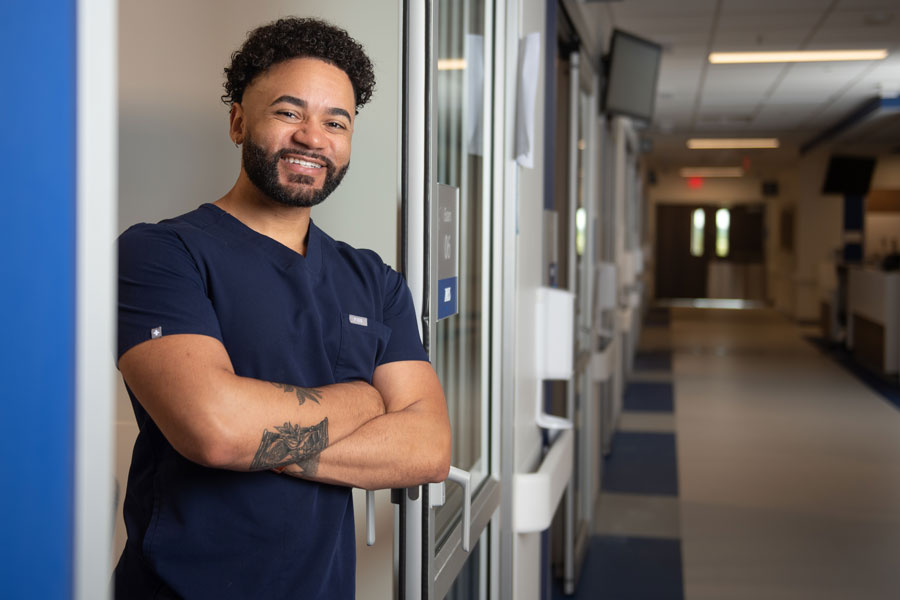 Lancaster Medical Center was designed to meet the community's diverse needs, including different parking facilities. "I'm thrilled we have parking for bicycles, electric cars, gas-powered cars and horse and buggies," says Dr. Michael Reihart, medical director, emergency medicine. 
Involved in emergency medicine since he became an emergency medical technician at age 16, Reihart serves as emergency medical services director for the region, experience that shapes his perspective on the medical center's services. "We have a unique opportunity to build a culture of safety, a culture of compassion and a culture of excellence. When our patients come here, we realize that their worst day is something we want to make into their best day."
A culture of respect
"The only way to provide the best possible care is to have the best possible team," adds Zuppa. "Our Lancaster Medical Center team members are people who are highly compassionate, who find great joy in our work and know the value of a smile, laughter and healing not only for our patients, but also for each other. Together, we are an amazing team that provides extraordinary care."
The medical center's exterior itself is motivational, Whitehead believes. "It's not like any other building around here," he says. "It shows there are innovative things happening here, evolving the health care system and inspiring others to improve their health and the health of Lancaster County."
New team members welcome
Team building continues at Lancaster Medical Center, which will employ nearly 1,000 people when fully occupied. In addition to its hospital beds, the medical center incorporates an emergency department, specialty inpatient services, including cardiac catheterization lab, labor and delivery, surgical capabilities and an attached medical office building.
Learn more about career opportunities with Lancaster Medical Center