Nurses who continue to give
By: Jean Waverka
Even when Courtney Kindrew isn't working as a neuroscience nurse for Penn State Health Milton S. Hershey Medical Center, she's still helping others. As the founder of Rekindled Nurse, a nonprofit that works to support and empower nurses, she's focused on ensuring they have what they need to do the best job for their patients.
Aha moment leads to deeper sense of empathy
"It gives me such joy because I'm making a difference in somebody's life—giving them space to be heard, seen and encouraged," she said of the workshops and conferences her organization presents throughout the year. "Nurses work so hard. If I can be an encouragement to someone who's hurting, it really gives me a deeper sense of empathy."
Kindrew got the idea for Rekindled Nurse after personally struggling with work-life balance and burnout. It was only after completing a nurse mentorship program that she realized her co-workers may be experiencing similar challenges.
"I had an aha moment," she said. "I knew I didn't want them to struggle, when there are so many resources and people available to them who want to change their script and bring the joy back to nursing."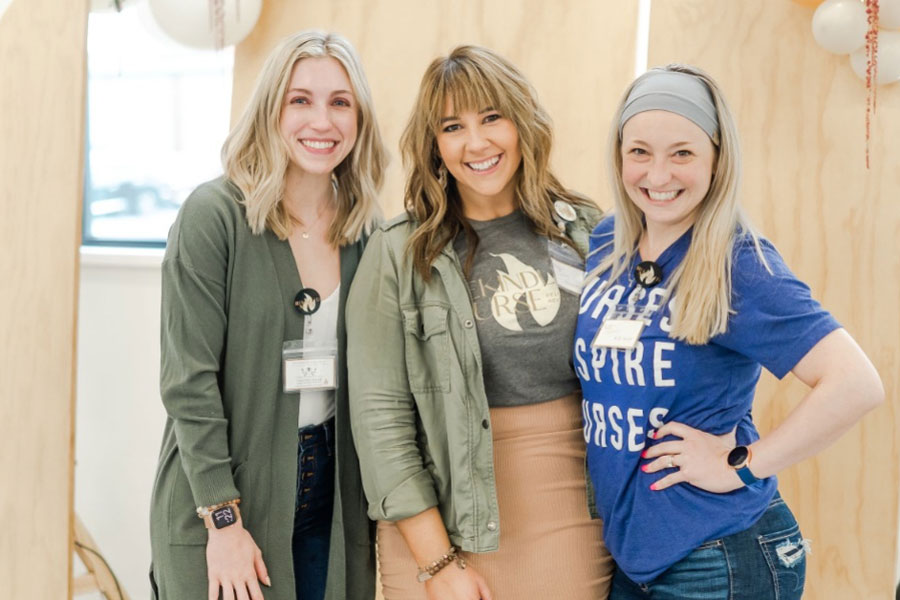 Volunteering opens doors to community
Kindrew is just one of many Penn State Health nurses who find time outside of their busy work life to continue their service to others.
Morgan Boyer, a clinical program coordinator with Penn State Health St. Joseph Medical Center, first volunteered in high school for the March of Dimes. She has since been on two medical missions and organized a 5K to benefit a hospital and orphanage in India.
Today Boyer actively supports the Make-A-Wish Foundation as a member of a group of moms who call themselves "Abrams Angels." Together with other "Moms for Make-A-Wish," the team participates in an annual softball tournament that plays out over two weekends every summer raising money to support the wishes of critically ill children.
"Through personal experience and as a clinician, I know having a chronic or potentially terminal illness is very stressful," Boyer said. "Make-A-Wish gives families hope, energy, a reason to keep fighting and a reason to make good memories. It's what everyone needs to stay motivated."
Boyer also believes volunteering is a natural fit for nurses and why you'll see most lining up to help where they can.
"Nurses have giving, caring souls and look for those opportunities to help others," she said. "Naturally, when these things come our way, we take them on and find a way to participate."
Learn more about nursing opportunities with Penn State Health