Best friends, brothers work, study together to become respiratory therapists
Although Imran and Yasin Dawood don't finish each other's sentences, they give the impression they could. The brothers not only have followed the same educational and career path, but also consider themselves best friends.
Respiratory therapists at Penn State Health Holy Spirit Medical Center, they wouldn't have it any other way. "It feels good to work together," Yasin said to Imran's nod.
Respiratory therapists diagnose and treat patients with breathing or airway problems, particularly those with conditions such as asthma or cardiopulmonary diseases. They provide oxygen therapy, manage ventilators and administer drugs to the lungs. Respiratory therapy is also an in-demand career. The U.S. Bureau of Labor Statistics reported that employment of respiratory therapists is projected to grow 14% through 2031, faster than the average for all occupations.
Imran, 35, and Yasin, 38, were born in Mombasa, the chief port city of Kenya along the Indian Ocean. As they grew, so did instability in their country, prompting Imran and his parents to immigrate to the United States in 2008 through sponsorship by a relative living here. "I was just a year out of high school at the time," Imran said, recalling the abrupt change to his life.
Yasin arrived the next year. A banker, he had continued working in their native country, noting that "banking is a very prestigious occupation in Kenya." The industry soon experienced its own crisis "because of bank closings and mergers," he said, "I was suddenly without a job," so he followed his family to the United States.
With help from a supportive landlord in Hummelstown, the family first took steps to establish themselves in their new country, gaining driver's licenses, building financial credit and seeking work. Initially, both Imran and his mother each held two full-time jobs at a local distribution center and a grocery store.
A career in the COVID spotlight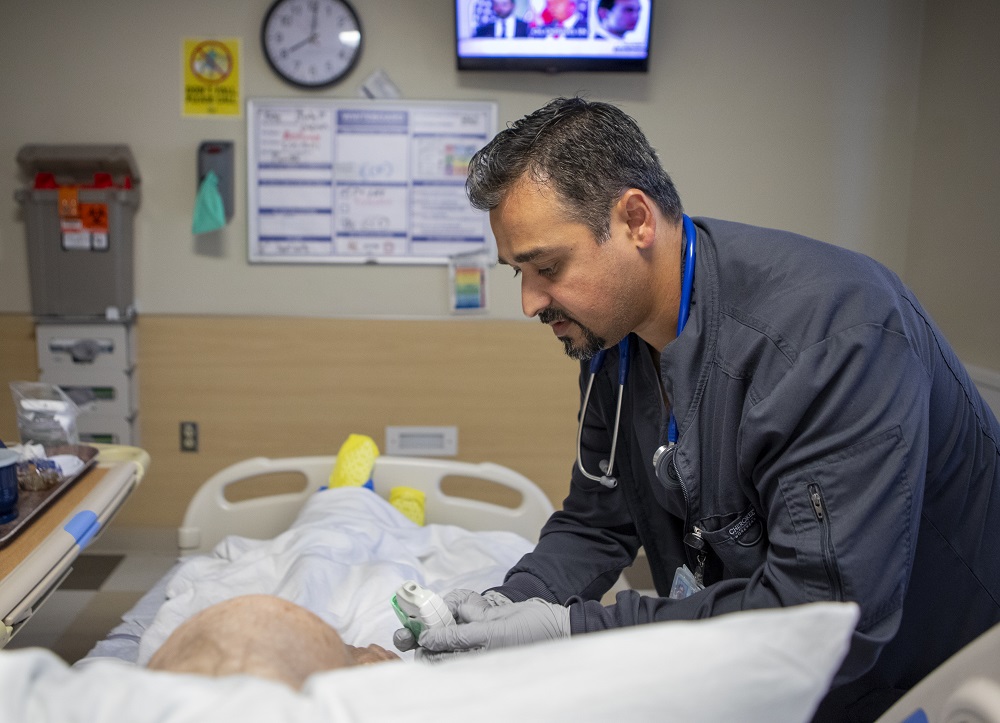 Late in 2008, Imran began working in environmental health services at Penn State Health Milton S. Hershey Medical Center. Yasin joined him the following year. But the brothers wanted long-term careers, not entry-level positions. "We had no guidance counselor, no one to point us the right way," said Yasin. Their exposure to health care occupations proved to be a blessing.
"Working at the Milton S. Hershey Medical Center we were able to see people serving in different ways, including nursing, physical therapy and respiratory therapy," Imran said. "We studied those fields to see what best fit our needs. We decided to look into respiratory therapy because it seemed interesting."
They also found respiratory therapy offered excellent career opportunities, both for growth and financial stability. "Plus, we liked how flexible it is," said Imran. "We wouldn't be limited to working at one hospital floor or unit. We'd see patients with a variety of diagnoses and situations."
The COVID-19 pandemic shone a spotlight on respiratory therapists and their essential role in caring for patients. The virus can cause an acute respiratory tract infection that makes the lungs stiff, creating breathing difficulties, which are treated through oxygen therapy and mechanical ventilation.
Saving lives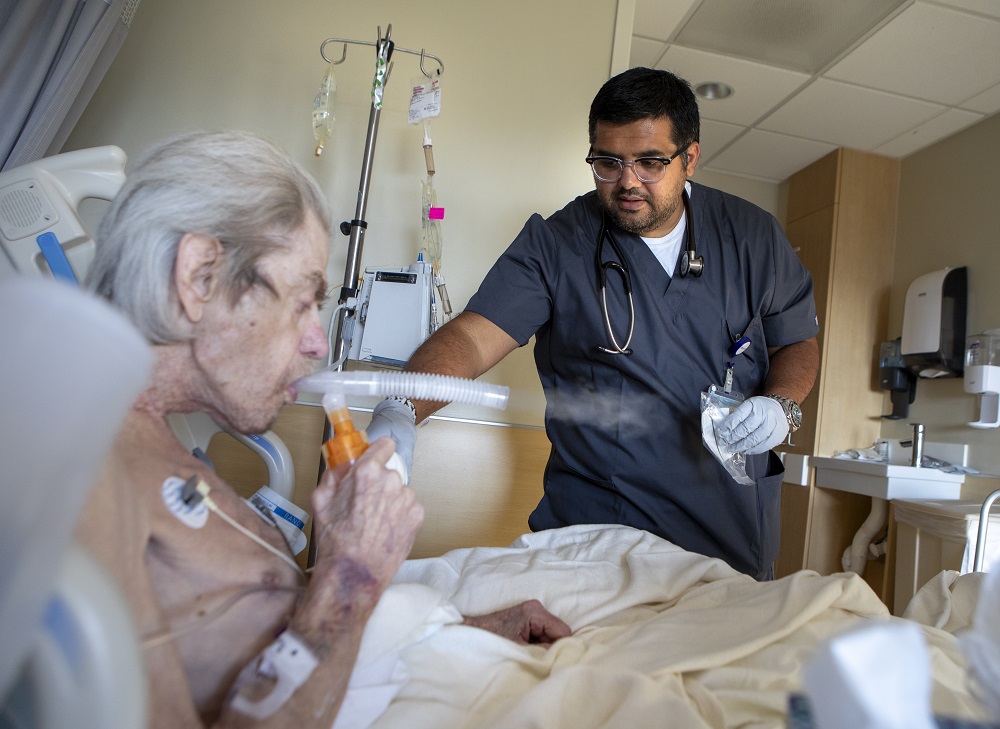 Together, the brothers enrolled in the respiratory therapy program at Harrisburg Area Community College (HACC) in the fall of 2009. "We didn't want to waste any time," Imran said. They sat together at HACC and studied together. "It felt good to work together and support each other," Yasin said.
For financial reasons, they continued working full-time while attending college. They both had joined the residential program of a local human services provider for people with disabilities. They worked together there until just after their 2013 graduation from HACC, gaining both Phi Theta Kappa and Lambda Beta respiratory therapy honors.
Imran and Yasin quickly found respiratory therapist positions at regional hospitals in central Pennsylvania, later also working together at a rehabilitation center. Their first experiences, Imran said, were "amazing. Respiratory therapy is at the forefront of health care. If someone comes in coding ─ in cardiopulmonary arrest ─ we can help them. If a trauma happens, we can help them. It feels great to see someone who is blue because they can barely breathe no longer be blue because of your skills."
Imran joined the staff of Holy Spirit Medical Center in 2016, his brother several years later because he needed time to recuperate from an accident.
'A great place to work'
The brothers call Penn State Health "an advanced, innovative health system, a great place to work. Doctors, nurses and other team members treat you with equal respect. You feel involved and valued," said Imran. "Penn State Health also is really diverse. I've met colleagues from all over the world, including one from our home country. To meet someone from 16,000 miles away is a very good sign of that focus on diversity."
The brothers have taken advantage of the health system's tuition reimbursement benefit. Full-time employees are eligible to be reimbursed 100% of the base tuition for courses they take through an accredited university, up to a certain amount per year. Imran earned his bachelor's degree from Boise State University's online program, while Yasin has nearly completed his studies at the same institution.
Their work intensified when the COVID-19 pandemic struck. "Respiratory therapy was critical in making sure we stabilized patients affected by COVID," said Yasin. "But we all worked together ─ nurses, physicians, respiratory therapists ­─ to develop a plan for each patient to have the best outcomes."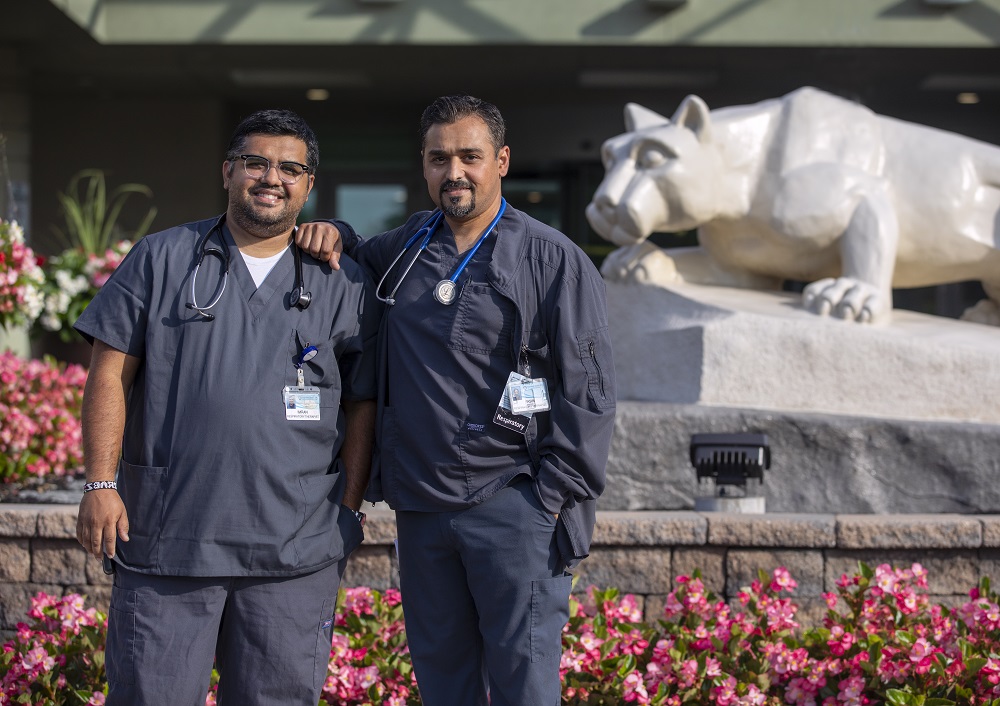 Besides working together, Yasin and Imran also live near each other. "We enjoy being together," said Imran. "We do everything together." Even their children play together. Yasin has five children, Imran three.
"We have other friends," Yasin said, "but our parents always stressed the importance of family to us when we were growing up, so we've always been close. We're best friends."