Want to become a nurse? Then do it, says Aileen McCormick. "Surround yourself with supportive people, and never let challenges become a barrier. Always keep going because what matters is finishing the race."
A nurse navigator in neurology at Penn State Health Milton S. Hershey Medical Center, McCormick knows that race well. The first woman in her immediate family to attend college, she has advanced from certified medical assistant to candidate for a master's degree in nursing leadership, all while working full time.
And don't let age stand in the way, she adds. Her educational journey began in her mid-40s.
Inspired and supported
A 15-year Penn State Health employee, McCormick initially served as a certified medical assistant in neurology at the Milton S. Hershey Medical Center and worked extra hours in the former walk-in clinic at Penn State Health Medical Group ─ Fishburn Road.
"I grew up here professionally," she said. "In addition to completing my externship, I was a certified medical assistant in neurology from 2008 to 2019, then worked as an RN on the trauma and neuroscience floors in the hospital until moving into my present role in January 2022. I have worked side by side with so many providers who not only inspired me with their clinical expertise, but also supported and encouraged me to keep going no matter what obstacles I encountered."
Motivated by that support, she decided to enroll in the Pennsylvania College of Health Sciences in Lancaster to earn her associate degree in nursing. "That was nine years ago, and I'm still pursuing my education," she said.
Tuition assistance makes the difference
Penn State Health supported her through tuition assistance—"funds that were very important," McCormick said. Reimbursement to full-time employees for applicable college or university courses or qualifying certification programs is 100% of base tuition up to the IRS annual maximum of $5,250. The medical center's flexible scheduling made it easier for McCormick to balance full-time nursing duties with her educational pursuits. "That's another way Penn State Health provided exceptional support."
Completing her associate degree, she began work on her bachelor's degree in nursing, also at the Pennsylvania College of Health Sciences. She then enrolled in Grand Canyon University to pursue her master's degree, becoming the first woman of five siblings to earn a college degree and the only one with an advanced degree. Born in the Fishtown neighborhood of Philadelphia, she moved at the age of 9 to New Jersey, where her mother worked three jobs.
Her education and the support she received from her colleagues "have allowed me to grow so much at Penn State Health over the years. That type of growth is important."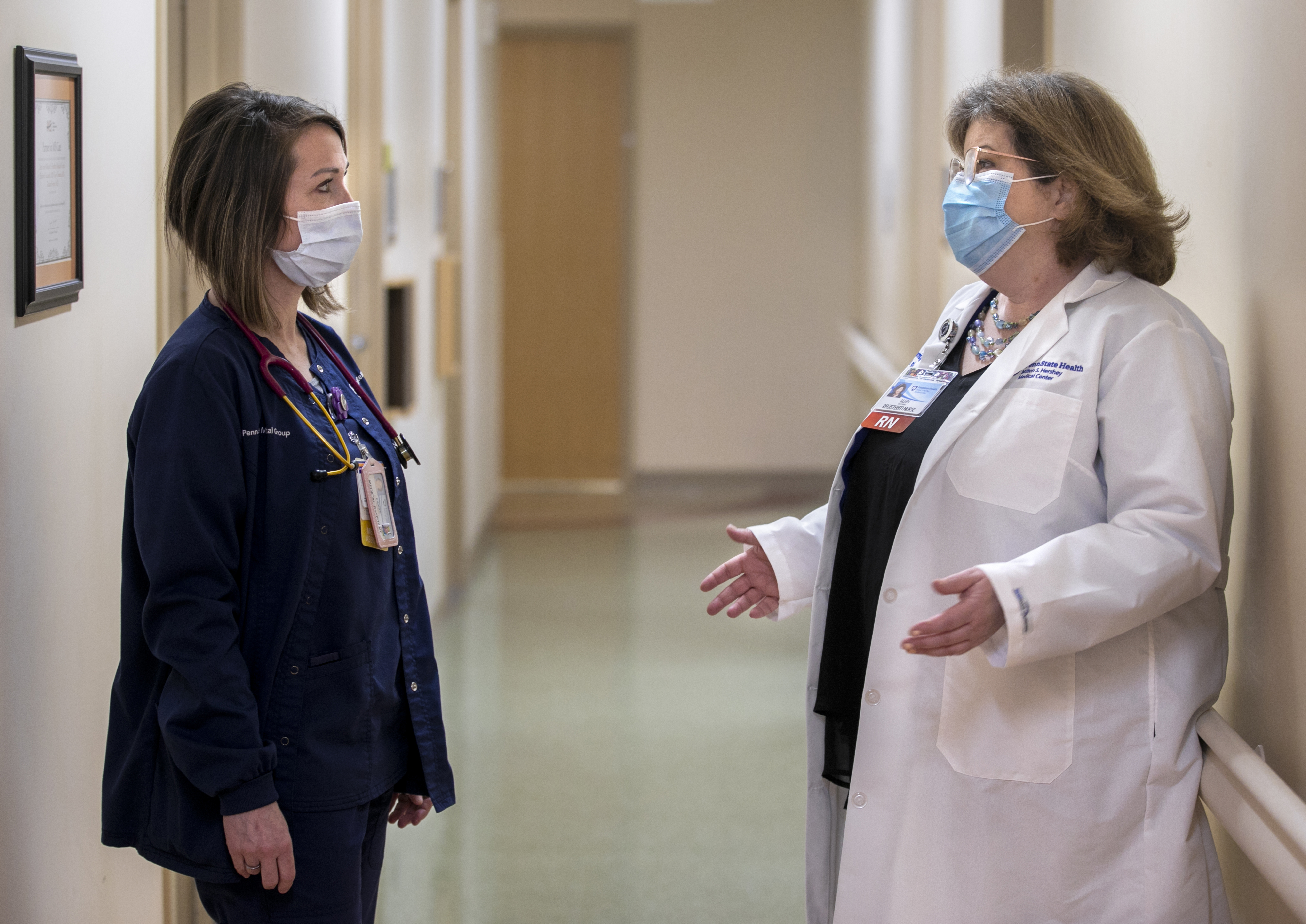 A passion for helping people
Doing good for others and her community drives her commitment to growth. She previously worked with patients with epilepsy but now aids those facing a multiple sclerosis diagnosis. As a nurse navigator, McCormick is an advocate for patients from their initial diagnosis through treatment.
Her passion for helping others, she said, may arise partially from an incident in her childhood. "I had spinal meningitis as a baby. My mother was told I would lose various abilities, was told to go home and get ready for my funeral." But McCormick survived and got better. "Today, I want to help others achieve the best outcomes possible."
McCormick also eagerly encourages others to follow her path. "I want anyone who's thinking about becoming a nurse to take that first step. I love lifting people up and hope I can be a role model to them. If you're thinking about it, I'm always ready to say, 'Give me a call and let's talk about it.'"
If you are interested in becoming a nurse or advancing your nursing career with Penn State Health, learn more here.
Or call: 717-531-8440