At Penn State Health Children's Hospital, you have access to a team of health care professionals who handle various aspects of your child's clinical, emotional, and educational needs. Learn who they are and how they support your child and family.
Medical Team
Physicians and nurses provide medical care for your child. As a teaching hospital, Penn State Health also trains health care professionals. Here's who may participate in your child's medical care.
Attending physicians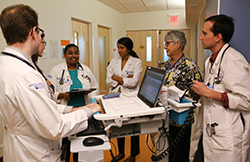 Attending physicians, or attendings, are doctors who guide and supervise residents and medical students. They make the final decisions about your child's care. You may encounter an attending during morning rounds, when he or she discusses your child's condition and treatment with trainees. Attendings wear long white coats.
If you'd like to talk to the attending on duty, ask your nurse to page him or her.
Residents
Residents have graduated medical school and are training to become pediatricians. They report to the attending physician. As doctors, residents can make decisions about your child's care, though they are supervised by attendings. Like attendings, they wear long white coats.
Medical students
Medical students are studying at Penn State College of Medicine to receive their medical degrees. They may interact with your child, perform health assessments, and talk with residents and attendings, but they don't actively participate in the care of patients. Medical students wear short white coats.
Physician assistants (PA) and nurse practitioners (NP)
Physician assistants are medical professionals with advanced degrees who work under the supervision of a doctor. Nurse practitioners are registered nurses with advanced degrees who work along with the doctors caring for your child. Both may examine your child, order tests, and prescribe medication. They're identified by their white coats and badges - physician assistants with "PA" and nurse practitioners with "NP"
Registered nurse (R.N.)
Registered nurses work closely with your child to monitor his or her progress, communicating any changes to the doctors. RN's also advocate for patients, making sure that the needs of your child and family are being met. They're identified with "R.N." on their badges.
Nursing students
Nursing school students work under the supervision of an R.N. or a nursing instructor from their school, whether Penn State Hershey or other nearby institutions. Like medical students, they may interact with your child and perform health assessments, but always under the supervision of a nurse or instructor.
Care-Giving Team
Care coordinators, social workers, Child Life specialists, educators, and family care coordinators have different jobs, but their overall mission is the same - to support your family during your hospital stay.
Care coordinators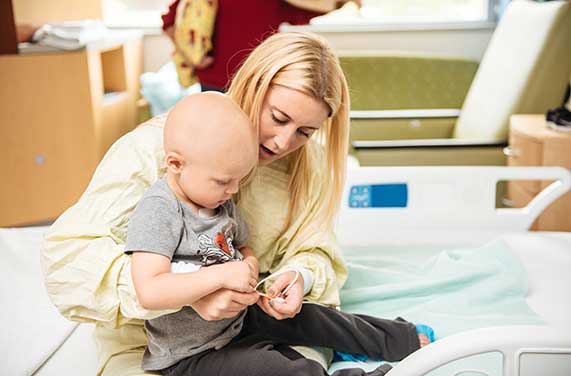 Care coordinators are nurses who help make the transition from hospital to home go as smoothly as possible. Your care coordinator will help prepare your child for discharge and assist your family in providing any necessary medical equipment or services your child might need at home. He or she may partner with a social worker to arrange for services you may need.
To contact your care coordinator, please call 717-531-8306.
Social workers
Social workers play a diverse role in your child's care, working with several other departments and team members to offer logistical and emotional support. They provide:
Orientation of the hospital environment
Counseling for emotional, financial, and social issues
Assistance with insurance questions
Coordination of discharge services to ensure a safe and timely return home
To meet with a social worker, please call 717-531-8306.
Child Life specialists
Child Life specialists work with patients, siblings, and family members to help you manage the challenges of a hospital stay. They offer services such as:
Surgery preparation, using medical play, photos, tours, and discussions to help reduce anxiety.
Pet therapy , overseeing a visit with a therapy dog to provide comfort and relieve stress.
Sibling support through fun, interactive workshops for brothers and sisters of patients.
To meet with a Child Life specialist, please call Child Life at 717-531-8366 or email [email protected].
Educators
Educators, provided by the Capital Area Intermediate Unit, are available for all school-age children. Services include direct instruction of academic assignments, assistance for families and schools in recommending accommodations, and modifications in the academic environment. They also serve as a resource for staff.
To meet with an educator, please call 717-531-0003, extension 281731.
Family centered care coordinators
The goal of family centered care coordinators is to make your stay as comfortable as possible. Whether it's by helping you navigate the hospital, locating a nearby restaurant , or finding activities for your children, they can identify and connect you with the right resources.
Family centered care coordinators also work with families interested in getting involved in the Children's Hospital, such as becoming a family advisor on hospital committees or a family faculty for hospital staff.
To contact your family centered care coordinator, please contact us at [email protected].