We know that having a child undergo surgery or any other medical procedure can make you anxious. We'll answer your questions and update you on your child's progress throughout the process.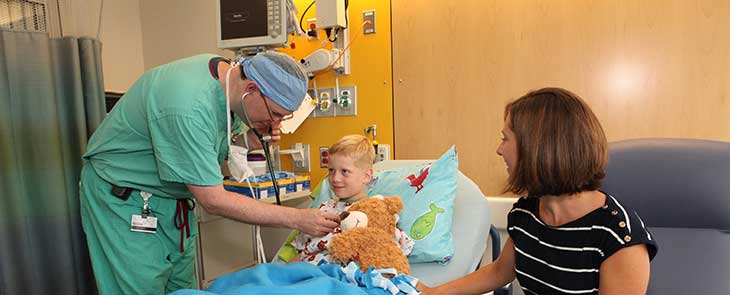 After arrival and check in
Once you arrive at the Children's Hospital with your child and check in at Admissions, you will be directed to an assigned area in the hospital or Medical Center. Your specific location will depend on the admitting surgeon or physician and where your child has been assigned for pre-op process, operating room location, and recovery room area. Our staff will walk you through what you need to know and direct you to exactly the right area, as well as help prepare you for what happens next.
Stay informed during your child's procedure 
When your child undergoes a procedure, including surgery or an imaging scan, one of our Child Life specialists may accompany you and your child to the procedure room to help the child understand what's happening and try to distract him or her from anything that's painful or scary. During the surgery or procedure, we'll give you a pager to keep you constantly updated about your child's progress, no matter where you are in the hospital. Our nurses or nurse's aide will often give live updates as well. Following surgery, the surgeon will speak with your about how the procedure went.
Recovery
Depending on the type of surgery or procedure your child is having, he or she will most likely go to a recovery room (often called a post-anesthesia care unit, or PACU) to allow the anesthesia to wear off. You will be able to see your child when he or she has awakened from the anesthesia. In the recovery room, registered nurses, anesthesiologists, and other health care professionals will closely monitor your child as he or she awakens from anesthesia. The length of time your child spends in recovery depends on the type of surgery, the response to surgery and anesthesia, and the medical condition treated. It's important to remember that each child wakes up differently. Some are wide awake in the recovery room, while others are groggy for several hours. In some cases, your child may go to the intensive care unit immediately after surgery and you will be able to accompany him or her there. For some surgeries, your child may go to a day surgery area for a short time before being sent home, or to an inpatient hospital unit to recover.