The Penn State Health Approach to Speech-Language Pathology
Penn State Health Otolaryngology – Head and Neck Surgery (ENT) offers a strong speech-language pathology program that evaluates and treats a wide range of speech, language, cognitive, voice and feeding/swallowing disorders.
Our dedicated speech-language pathology team provides outpatient and inpatient services at Penn State Health Milton S. Hershey Medical Center and Penn State Health Children's Hospital.
Inpatient services include:
Clinical swallowing evaluations
Instrumental swallowing evaluations

Fiberoptic endoscopic evaluation of swallowing (FEES)
Modified barium swallow studies (MBSS)
Swallowing treatment

Voice evaluation and treatment
Post-laryngectomy care
Speech-language-cognition evaluation and treatment
Tracheostomy and speaking valve evaluation and treatment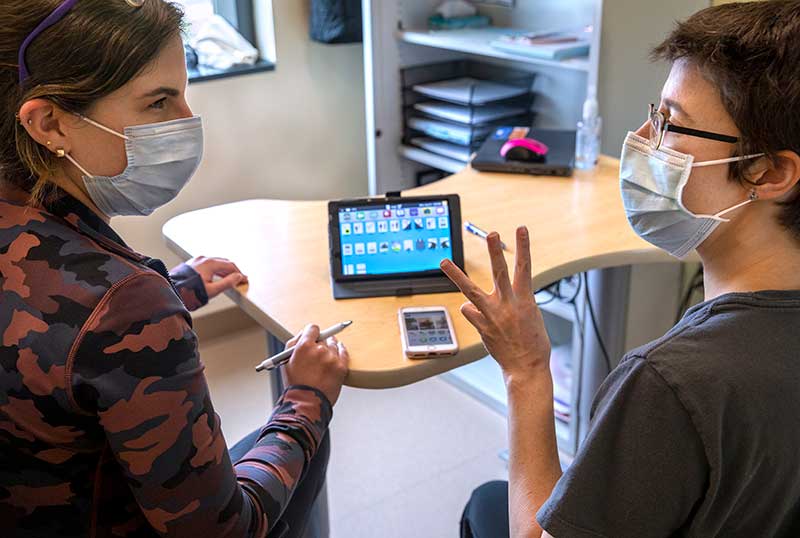 Adult Speech-Language Pathology Services
Our team of speech-language pathologists (SLPs) specializes in helping adult patients improve their ability to communicate in their daily lives. Services and disorders treated include:
Aural rehabilitation – helps patients with cochlear implants adjust and process environmental sounds by developing new speech and language skills. Aural rehabilitation can include practicing auditory training tasks, as well as applying strategies to help prevent and troubleshoot communication issues.
Cognition disorders – reasoning and understanding are most often impacted by stroke, brain injury and neurodegenerative disease. Cognition disorders can affect attention, executive functioning and planning, information processing, memory, learning and self-awareness.
Facial nerve impairment – evaluation of patients with facial weakness or facial paralysis by a multidisciplinary team at our Facial Nerve Disorders Clinic. 
Language disorders – many stroke and brain injury patients experience disorders of language production and comprehension. Progressive neurological diseases like Parkinson's disease and dementia can also result in language difficulty. Our team is skilled in diagnosing and treating aphasia, which is an impairment in expressing spoken language, understanding spoken language, reading and writing.  
Laryngectomy pre- and post-care – the Penn State Health Otolaryngology team offers comprehensive services for patients undergoing a laryngectomy (removal of the voice box), including:

Pre-laryngectomy counseling
Post-laryngectomy education and care
Education on post-laryngectomy voicing options
Tracheoesophageal voice prosthesis (TEP) changes

Speech disorders – difficulty producing speech, either with the planning or articulation of speech, can be caused by weakness or discoordination from stroke, brain injury, facial injury or progressive disease. Patients with a speech disorder might have a diagnosis such as dysarthria, acquired apraxia of speech or neurogenic stuttering.
Swallowing disorders – difficulty swallowing is called dysphagia. Swallowing occurs in three phases: in the mouth, the throat and the esophagus. Our team diagnoses and treats swallowing disorders related to the mouth and throat, and we work with the gastroenterology team for esophagus swallowing concerns. Patients can experience swallowing difficulties due to neurological conditions, stroke, brain injuries, head and neck cancers and progressive diseases. Our team uses X-ray swallow studies to assess swallow function and diagnose swallowing disorders.
Voice and airway disorders – our multidisciplinary team evaluates and treats voice disorders in the Otolaryngology Clinic. We work closely with a laryngologist to create a comprehensive treatment plan that includes voice evaluations and voice therapy for patients with voice disorders, including specialization with singers and professional voice users. We see a wide variety of voice disorders at the Otolaryngology Clinic, including:

Age-related changes of the vocal folds (presbylarynx)
Gender-affirming voice care
Hoarseness
Loss of range
Muscle tension dysphonia
Spasmodic dysphonia
Voice change
Vocal cord dysfunction (VCD)
Vocal fold cysts
Vocal fold nodules
Vocal fold paralysis
Vocal fold polyps
Dysphagia Pathway Program
Patients who are currently undergoing surgical and/or radiation treatment for head and neck cancer are a part of our dysphagia pathway program. Our team provides patients with pre-radiation counseling and swallowing exercises to help prevent surgical or radiation-related swallowing difficulties. If needed, our team will also create a more intensive swallowing therapy program after cancer treatment.
Pediatric Speech-Language Pathology Services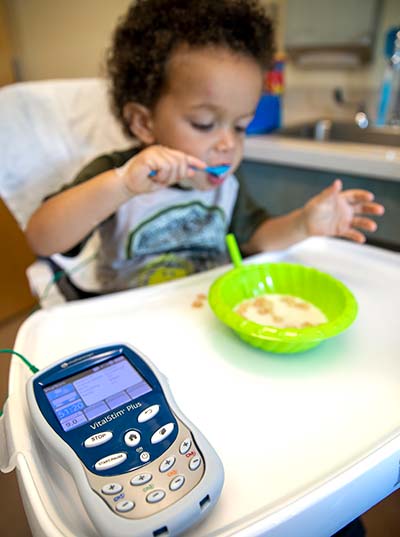 Our pediatric speech-language pathology team at Penn State Health Children's Hospital offers comprehensive services for our youngest patients in both the inpatient and outpatient setting, include:
Aural habilitation – helping children with cochlear implants adjust and process the sounds in their environment to develop new speech and language skills.
Cognition functioning – assessment of cognitive functioning in children who have suffered brain injuries and concussions. Treatment addresses attention, executive functioning and planning, information processing, memory, learning and self-awareness.
Facial nerve disorders – facial weakness or facial paralysis. Treated at our Facial Nerve Disorders Clinic.
Feeding and swallowing – these disorders can occur from birth through childhood and may be related to:

Behavioral factors
Delayed development
Developmental disorders
Neurological conditions
Prematurity
Sensory factors
Structural abnormalities
Syndromes

Language development – late language development or challenges associated with developmental disabilities and delays, autism spectrum disorder, including diagnosis and treatment planning of autism; brain injury and hearing loss.
Speech development – difficulty producing and planning speech sounds due to articulation and phonological disorders and childhood apraxia of speech. We also see children with phonological processing and other various developmental speech and language disorders.
Voice and airway – evaluation and treatment of voice and airway disorders, such as vocal fold nodules (VCD).
Experts in Care
Meet our doctors, view their profiles and select the one that's right for you.
Find a doctor near you
Commitment to Clinical Trials
The speech-language pathology team at Penn State Health Milton S. Hershey Medical Center is committed to furthering research in speech and language development. We are actively involved in clinical trials to research safe, effective and innovative treatment options. To learn more about clinical trials available at Penn State Health, visit StudyFinder.
Support Groups
Support groups provide an opportunity to share your feelings and connect with other patients and caregivers who are experiencing similar struggles.