Our commitment to our RITE values
Penn State Health's RITE values – Respect, Integrity, Teamwork and Excellence – provide the foundation for a respectful work and patient care environment. An expectation of mutual respect is a priority for our organization, employees and patients. To support this expectation, in 2017, Penn State Health became one of the first health care organizations in the country to implement a written policy stating that patients and their family members shall not discriminate against any of our employees based on aspects of diversity. In addition, the policy states that patients must also agree they will not request a different health care team member based on any part of that individual's diversity. This ensures continuity of care and reinforces mutual respect. 
To support employees, we strengthen our commitment to diversity, inclusion and our RITE values through a zero tolerance for discrimination policy. This policy states that Penn State Health is committed to diversity and equality and does not tolerate unlawful bias, discrimination or harassment among employees, employees and students or employees and patients. Employees who willfully engage in conduct motivated by diversity-related hostility or hatred toward a person will have their employment terminated immediately. 
To put our commitment to diversity and inclusion into operation at the departmental and location level, the Penn State Health and Penn State College of Medicine Diversity Council, a collective of leaders from clinical and administrative departments at Hampden Medical Center, Hershey Medical Center, St. Joseph Medical Center and Penn State Health Medical Group practices, provides measurable diversity/inclusion initiatives in their locations. In addition, associate and vice chairs for diversity in Hershey Medical Center's clinical departments implement strategies to improve the experiences of diverse patients.
Penn State Health is committed to creating and maintaining a safe, inclusive and equitable environment for all employees and patients, including those with disabilities and those from LGBTQ+ communities. To accomplish this, Penn State Health, through its Office for Diversity, Equity and Inclusion, provides education, information, support and advocacy services throughout the Penn State Health community.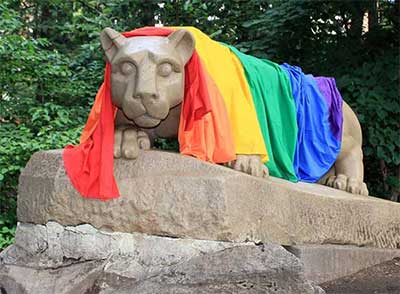 To support patients from LGBTQ+ communities, Penn State Health has established the Sexual and Gender Minority Advisory Council, a group of individuals from our organization; the LGBT resource centers for Central PA, Reading and Lancaster; TransCentral PA; and Alder Health Services (Harrisburg), to determine best practices for health care inclusion of sexual and gender minorities. This advisory council has provided leadership to establish "preferred" or chosen names on patient medical records, embed sexual orientation/gender identity examples into employee training and launch a pronoun usage educational campaign. The advisory council's action plan includes a communication campaign for pronoun practices within the organization and creating a list of providers of LGBTQ+-responsive care.
Penn State Health has also established a Disability Inclusion Advisory Council to focus on the needs and interest of patients with disabilities. This council includes individuals from community disability advocacy organizations as well as employees with a passion and/or a responsibility for addressing the needs of patients with disabilities. The council focuses on increasing the educational awareness of the workforce on the needs of patients with disabilities and exploring how to provide greater access to patients with disabilities.
National racial incidents in 2020 brought a renewed focus on race relations to Penn State Health. In June of that year, the organization hosted nine town hall meetings, in addition to two meetings for the College of Medicine community, to hear employees' thoughts on encouraging a more inclusive and respectful work environment. More than 3,000 individuals participated in these town halls, including the two hosted for the College of Medicine. The health system is implementing the recommendations from these town halls, with the goal of continuing to focus on eliminating racism and creating allies against racism. Read more about town hall updates and actions.