The Penn State Health Approach to Radiofrequency Ablation of Thyroid Nodules
Radiofrequency ablation (RFA) is a minimally invasive procedure used to shrink small thyroid tumors, nodules or other growths. The experts at Penn State Health Otolaryngology - Head and Neck Surgery offer RFA to treat conditions such as:
Benign thyroid nodules
Benign and small malignant tumors
Thyroid and thyroglossal duct cysts
Some thyroid goiters
What to Expect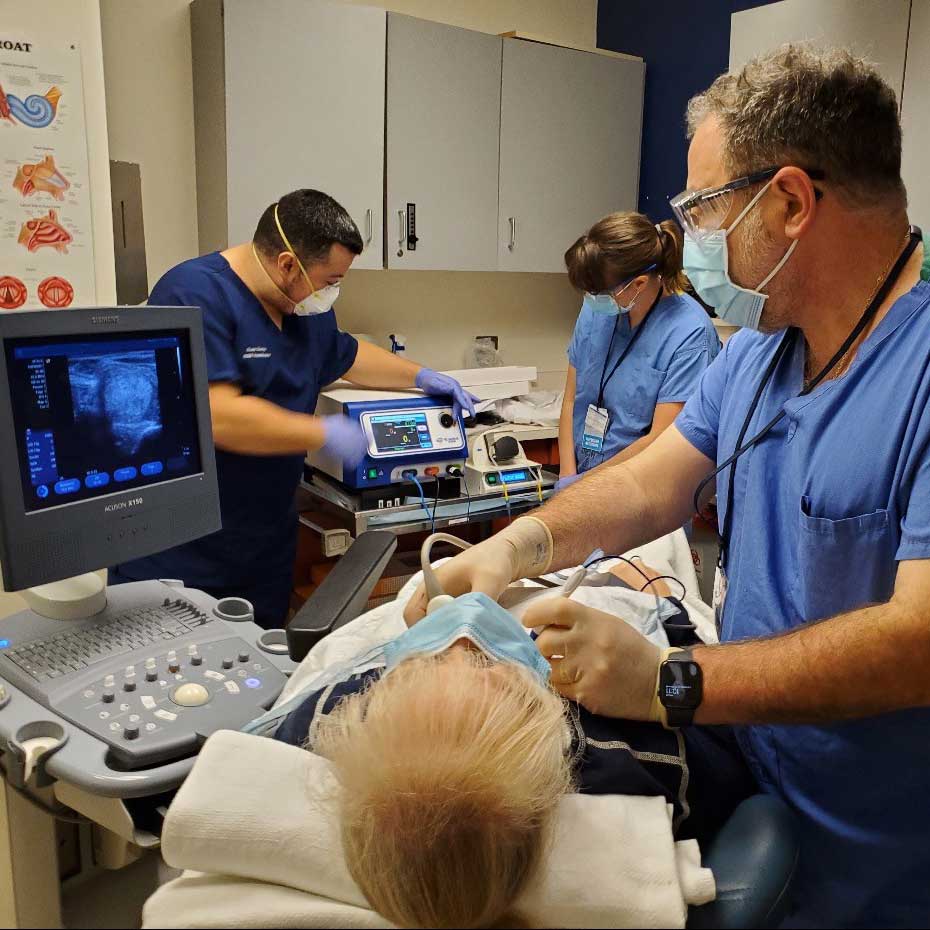 The RFA procedure is performed in the office or an outpatient setting using a local anesthetic, which means you will be awake, but feel no pain. Your doctor will use ultrasound to guide a needle and microelectrode probe into the affected area. The probe sends radiofrequency waves that cause friction and heat aimed to precisely target tumors and nodules, causing the targeted cells to die.
RFA takes about 20 minutes. Most patients can go home the same day as their treatment and return to their normal activities within 24 hours. Side effects may include some temporary swelling, soreness, bruising, weakness or numbness, as well as a small risk of bleeding or infection at the needle insertion site.
RFA for Benign Thyroid Nodules
RFA may be an option if you are living with symptoms from thyroid nodules that have been biopsied and determined to be benign. It may also be used in select small thyroid cancer cases. This procedure does not completely remove thyroid nodules. However, with time, the nodule will continue to shrink, and you should experience an improvement in symptoms. Additional ultrasounds will determine if you need more than one RFA procedure.
Make an Appointment
To make an appointment with the experts in RFA at Penn State Health Otolaryngology – Head and Neck Surgery, call our toll-free phone number at 800-243-1455 or 717-531-6822. Medical records can be faxed to 717-531-4907.
Are you a physician or a provider?
Learn more about how to refer a patient.
Experts in Care
Meet our doctors, view their profiles and select the one that's right for you.
Find a doctor near you
Why Choose Penn State Health for Radiofrequency Ablation
Penn State Health Otolaryngology - Head and Neck Surgery also offers leading-edge radiologic imaging and testing options to develop your treatment. Our commitment to providing the most advanced surgical techniques and technology means you receive the comprehensive care you need. Our experts recognize that problems affecting your hearing, voice, nose and throat can have a significant impact or your everyday life. These issues may affect your work and daily interactions with family and friends. Together, we'll create a comprehensive treatment plan to help you regain your best function and quality of life.
Convenient Locations
Find the care your family needs, close to home, at one of our many locations throughout central Pennsylvania.
Find a location near you