Top experts in clinical neuroscience 
Scientists everywhere want to know more about the human brain and how it works. Penn State Neuroscience Institute makes it possible for teams of brain, spinal cord and peripheral nerve experts to conduct research together. The institute also encourages teaching, to share new care methods that come from research. 
We want patients with neurological (nervous system) and psychiatric (mental) diseases to benefit from new treatments. Scientists and medical professionals who know more can do more for their patients and the world of medicine.
Our mission
Penn State Neuroscience Institute has an ambitious goal. We want to be known around the world as a center for excellence in research, patient care and teaching. Our network includes Penn State Health Milton S. Hershey Medical Center and Penn State College of Medicine, as well as institutions like us throughout Pennsylvania.
The institute works to:
Assure excellence in basic and clinical research studies that increase our understanding of the normal and diseased brain.
Promote the translation of research findings into new treatments for neurological disease, such as brain tumors, epilepsy, Parkinson's disease and stroke.
Improve the care of patients with neurological and neurobehavioral diseases, such as confused mental states, Alzheimer's disease and abnormal behaviors.
Provide a rich intellectual environment so those studying neuroscience have the best possible educational experience.
Penn State Clinical Neurophysiology Lab Accreditation
The Penn State Clinical Neurophysiology Lab at Hershey Medical Center was accredited by the Electroencephalogram (EEG) Laboratory Accreditation Board of ABRET based on an evaluation of the quality of EEGs performed and lab management issues, including specific policies. This achievement means that the EEG lab has met strict technical standards and is recognized as a place where patients and physicians can have confidence they are receiving quality diagnostics. Accreditation by the ABRET will enhance the EEG laboratory's reputation for precision and integrity.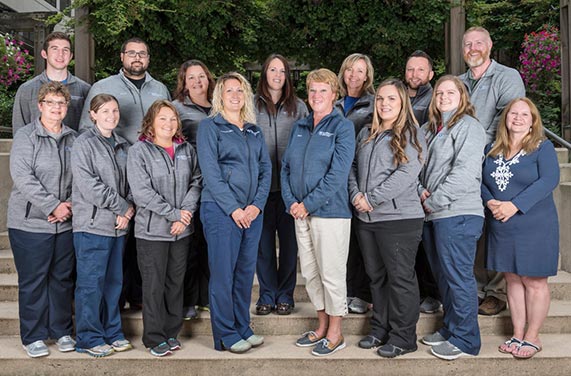 Experts in Care
Meet our doctors, view their profiles and select the one that's right for you.
Find a doctor near you
Penn State Neuroscience Institute administration
Director 
Krishnankutty Sathian, MBBS, PhD
Professor and Chair of Neurology
Professor of Neural and Behavioral Sciences, and Psychology
Associate Director
David J. Vandenbergh, PhD
Professor of Biobehavioral Health, Penn State College of Health and Human Development
Executive and Advisory Committees
An executive committee and an advisory committee also help oversee the Neuroscience Institute.
Neuroscience Institute departments and divisions 
The departments most closely affiliated with Penn State Neuroscience Institute include:
Neuroscience work also happens through the College of Medicine and the University in other departments, including Anesthesiology and Perioperative Medicine, Communication Sciences and Disorders, Kinesiology, Ophthalmology, Pharmacology, Psychology and Radiology, among others.
Neuroscience Programs
Penn State Neuroscience Institute is organized into programs that address our missions of education, research, patient care and community outreach. Active programs and programs in development include:
Center for Translational Brain Research
Support Groups
Support groups provide an opportunity to share your feelings and connect with other patients and caregivers who are experiencing similar struggles.
Convenient Locations
Find the care your family needs, close to home, at one of our many locations throughout central Pennsylvania.
Find a location near you