The Penn State Health Approach to Hemophilia Care
The Hemophilia Treatment Center of Central Pennsylvania at Penn State Health is led by a team of benign hematology specialists. Hemophilia Treatment Centers (HTCs) were established by the U.S. Health Resource and Service Administration (HRSA). The HRSA established HTCs in the 1970s based on published studies that showed exceptional outcomes from a more comprehensive, multispecialty team approach to care.
The Hemophilia Treatment Center of Central Pennsylvania was established in 1973. It is one of approximately 149 HTCs across the country. Our HTC is partially funded by the Commonwealth of Pennsylvania and through grants from the Maternal and Child Health Bureau (MCHB) and the Centers for Disease Control (CDC).
The Hemophilia Treatment Center of Central Pennsylvania is part of Penn State Health's Comprehensive Hemophilia and Thrombosis program. This program offers advanced, family-centered care for children, adolescents and adults. You can get trusted care from leading specialists who treat common and rare blood disorders.
Comprehensive Hematology Care for Your Best Health
We treat a wide array of noncancerous, called benign conditions in children, adolescents and adults. Conditions treated include hemophilia, von Willebrand disease and other inherited bleeding disorders and clotting disorders.
Our HTC team includes doctors, nurses, social workers, physical therapists, researchers and other specialists. Our specialists ensure you are an active member of the care team by educating you and your family throughout your treatment. You'll learn how to care for yourself or your child at home, when appropriate. Our goal is to promote optimal health and prevent bleeding and treatment complications.
Leaders in Researching Bleeding Disorders to Improve Care
In addition to clinical care, Penn State Health hematologists stay at the forefront of academic and clinical research. Our nationally and internationally recognized doctors work as a team to improve care and outcomes, with areas of focus that involve novel therapies, including gene transfer for Hemophilia A. Recent clinical findings show promising ways to reduce or eliminate painful and potentially life-threatening complications of hemophilia. We're dedicated to leading the way in improved care and quality of life for those with hemophilia and other inherited blood disorders.
Comprehensive Care Leads to Better Outcomes
When you have hemophilia or von Willebrand disease, it's important to seek care from a comprehensive HTC, supported by the latest expertise from national health leaders. An HTC provides a reliable system of care offered by a team of hematology specialists who are highly trained and experienced in treating individuals with hemophilia and von Willebrand disease. That means they can also provide families with the support and information they need to provide care at home.
Your Care Team
At Penn State Health, you and your family are always at the center of the team. Your HTC team may include these or other specialists:
Hematologists
Nurses
Physical therapists
Social workers
Other specialists and subspecialists
Penn State Health's HTC is supported and guided by physician leaders at the Centers for Disease Control and Prevention and the Maternal and Child Health Bureau of the U.S. Health Resources and Services Administration. Studies show that patients treated at a comprehensive HTC have significantly better outcomes than those cared for outside of this system.
Diagnosing and Treating Bleeding Disorders
When you or your primary care provider suspect a bleeding disorder, it's important to be evaluated in a designated Center of Excellence, such as the Hemophilia Treatment Center of Central Pennsylvania at Penn State Health. Evaluation includes:
Complete medical history
Physical examination
Blood tests:

Coagulation tests
Blood count
To determine a bleeding disorder treatment plan, hematologists consider age, type and severity of bleeding disorder, as well as other factors, and develop a plan with you and your family. Medical therapies can help prevent or treat bleeding by replacing or mimicking the action of a missing or deficient clotting factor.
We offer these and other clinical services:
In-clinic phlebotomy for blood draws
Infusion suite for delivery of intravenous (IV) medications, clotting factors and other blood products and procedures
Referrals, including coordination of care with specialty and subspecialty providers
Emergency access to a hematologist 24/7
Outlook for Life with Hemophilia
Hemophilia is a lifelong disease that requires you, your family and treatment team to work together to achieve and maintain your ideal health and quality of life. Scientists are making significant and exciting advances every day. At Penn State Health, we're exploring and testing new ways to improve treatment and minimize the impact of hemophilia. We want to help you and your loved ones to lead active, healthy lives with the best-possible quality of life.
Support Groups
Our support groups provide a chance to share your feelings and connect with other patients, families and caregivers who are experiencing similar challenges.
Learn more about support groups offered.
Contact Us
Hemophilia Center of Central PA
Contact: Colleen Farrell, RN, BSN
Penn State Health Milton S. Hershey Medical Center
500 University Drive
P.O. Box 850, Mail Code H046
Hershey, PA 17033-0850
717-531-7468
Hemophilia Nurses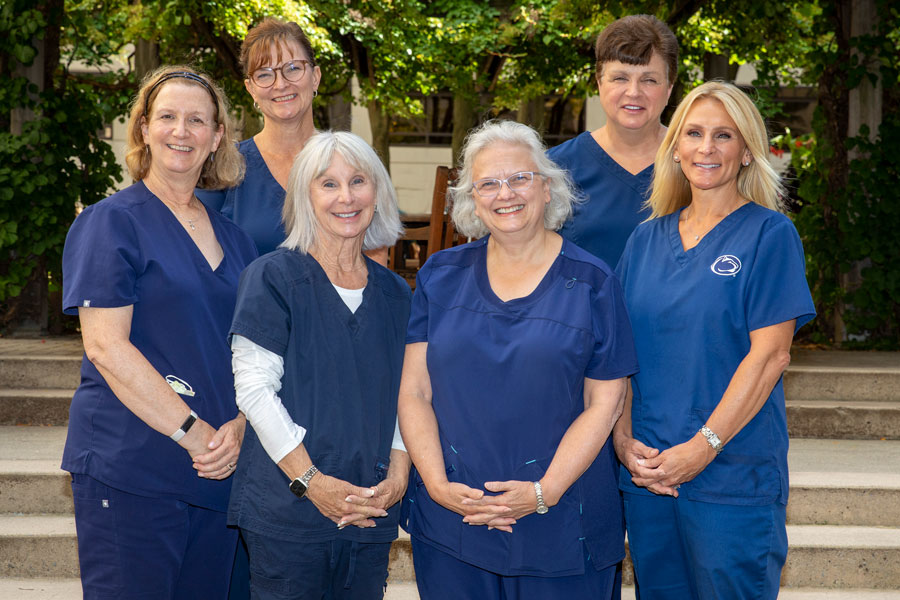 Hemophilia Social Workers
Why Choose Penn State Health for Hemophilia Care
Comprehensive, Compassionate Care
Our hematologists are leaders in treatment, education and research related to hemophilia and other genetic blood disorders. You'll see their names in leading academic forums and medical journals and in distinguished teaching positions at Penn State College of Medicine.
As a Center of Excellence for comprehensive hemophilia care, the Penn State Health Hemophilia Treatment Center (HTC) of Central Pennsylvania is home to highly skilled and experienced specialists. We offer:
Access to advanced care - Penn State Health's HTC is one of approximately 149 specialized hemophilia centers in the nation. It's the only facility in central Pennsylvania with advanced expertise in screening, testing, treatment and management of bleeding disorders.
Top doctors - Our medical team is consistently recognized nationally through Best Doctors in America and America's Top Doctors awards.
Academic and research leadership - Penn State Health hematologists are lab and clinical research leaders who publish and present in national and international forums. Areas of focus include bleeding in carriers of hemophilia, prevention and treatment of immunity to clotting factor proteins, and novel treatments for hemophilia A & B, including gene therapy for Hemophilia A.
Clinical trial opportunities - certain patients may be eligible to participate in innovative research of targeted hemophilia therapies. Clinical trials can offer early access to the newest treatments before they're widely available.