Personalized Care for Infants, Children and Adults
Hearing loss is a common condition that occurs when you are unable to partially or completely hear sounds. It may affect one or both of your ears and may occur at any age. Many children are born with hearing loss, and up to half of all people over age 65 have disabling problems with hearing.
Identifying the cause of hearing loss is critical in determining treatment options. Screening infants can detect hearing problems early. Young children who do not start speaking at the typical age may have hearing loss. Adults, may have trouble understanding words in a crowd or may frequently ask people to repeat themselves. Adults with hearing loss may tend to avoid social situations.
Symptoms, Diagnosis and Outlook
Hearing loss can occur at any age and it typically worsens over time. Symptoms include:
Delay in language development in toddlers and young children
Difficulty hearing that interferes with your regular activities
Hearing loss that worsens or doesn't go away
Ringing in your ears
Sudden loss of hearing
Hearing that's worse in one ear
Frequently asking others to repeat themselves
Withdrawal from conversation and social settings
Diagnosis of hearing loss includes a physical exam and screening tests to determine and measure your ability to hear. The Audiology experts at Penn State Health provide hearing tests for people of all ages. For infants and others who cannot be tested using standard methods, we use more complex methods, including electrophysiological testing, which assesses the inner ear.
Sometimes further testing is required in order to properly identify a cause for the hearing loss. This testing may include a CT scan of the ear, MRI of the brain, genetic evaluation, and/or blood work.
Many forms of hearing loss can be successfully treated through medication, hearing aids or surgery. Injecting steroids in the middle ear is a treatment considered for sudden hearing loss. Surgery to rebuild the ear drum or the bones of hearing may be considered. If the hearing loss is more severe, cochlear implantation may be considered in children and adults. The earliest age of cochlear implant surgery has been lowered to 9 months based upon the benefits noted in recent research. Treatment of hearing loss can greatly improve you or your child's ability to communicate, interact with others, and enhance quality of life.
Related Services & Treatments
I

ntratympanic ear injections
Reconstructive surgery of the hearing mechanism
Conventional hearing aids
Bone anchored hearing aids
Cochlear implants
Genetic evaluation of hearing loss
Experts in Care
Meet our doctors, view their profiles and select the one that's right for you.
Find a doctor near you
Why Choose Penn State Health for Care
Innovative Treatment Through Clinical Research
Penn State Health includes Milton S. Hershey Medical Center, the only academic medical center in central Pennsylvania. In partnership with colleagues at Penn State College of Medicine, Hershey Medical Center is a national leader in research and on the leading edge of new treatment, including clinical trials.
Our ongoing studies involving hearing loss include:
Evolution of skin flap thickness with use of the BAHA Attract© System
A single institution experience with the BAHA Attract© System
The use of magnetic resonance imaging (MRI) in the workup and treatment of otologic disease
Development of a novel tympanostomy tube from synthetic structural polypeptides by bioprinting
Development of a 3-D printed temporal bone library
Multifrequency tympanometry in Meniere's Disease
For more details, visit Clinical Trials.
Special masks are worn for the Hearing Impaired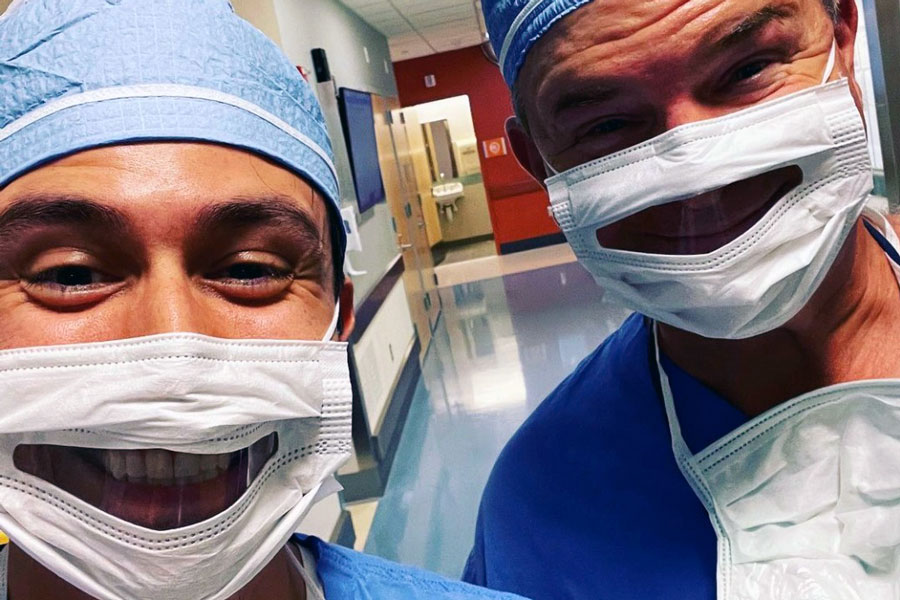 Support Groups
Support groups provide an opportunity to share your feelings and connect with other patients and caregivers who are experiencing similar struggles.
Convenient Locations
Find the care your family needs, close to home, at one of our many locations throughout central Pennsylvania.
Find a location near you