The Penn State Health Approach to Dermatology and Dermatologic Surgery
Penn State Health provides complete multidisciplinary care for skin conditions, from acne and rashes to skin cancer. Our dermatologists and skin care specialists are the trusted choice of families throughout central Pennsylvania. 
We're committed to using the latest medical advancements to diagnose your condition and create the best care plan for you. As an academic medical center, we're continually seeking new ways to find and treat skin disorders. We also educate our patients and the community about sun protection and skin cancer prevention. We offer free skin cancer screenings annually, hold a monthly clinic dedicated to serving the health needs of underserved people in Harrisburg and support Camp Discovery, a summer camp for young people with chronic skin conditions. 
Our dermatologists have the advanced knowledge and experience to treat dermatological concerns in people of all ages. We develop a personalized solution to give you the best results possible and have the expertise to treat the most complex and rare conditions. 
Complete Care for a Full Range of Dermatological Conditions
When you come to Penn State Health, you can count on the highest level of care from a dermatology team that offers the latest treatments for a full range of skin, hair and nail conditions. We provide leading-edge Mohs surgery to treat skin cancer, including early-stage melanoma. We also have the expertise to treat routine conditions, from allergic rashes to skin problems caused by lupus or genetic diseases. 
You benefit from comprehensive services provided by a team of specialists, including the latest approaches from our cosmetic services team. For cases where a patient cannot come to us, we now offer high-quality telehealth dermatology care, which provides virtual care with personal attention from a team focused on your well-being.
Related Services and Treatments
Dermatopathology
Interventional radiology
Laser therapy
Light therapy (phototherapy)
Occupational dermatology
Patch testing for allergies
Scar, birthmark and tattoo removal
Skin cancer care
Conditions Treated
Autoimmune skin diseases
Birthmarks (vascular malformations)
Genetic skin disorders
Hair and scalp disorders
Non-melanoma skin cancers

Cutaneous basal skin cancer

Rashes and growths
Rosacea
Skin allergies
Sun damage
Mohs Surgery: A Precise Method for Treating Skin Cancer
Skin cancer can appear as a small spot or abnormal changes on the surface of your skin. It's important to examine your skin often and ask your dermatologist about any suspicious lesions. 
Once skin cancer is diagnosed, your dermatologist may recommend Mohs micrographic surgery. Surgeons use this specialized procedure to remove skin cancers completely while preserving as much normal skin as possible. 
Mohs surgery spares healthy tissues and offers higher rates for the complete removal of skin cancers when compared to other treatments, according to the National Institutes of Health. Mohs procedures also help to minimize scarring or unsightly results that can occur after less precise tumor removal methods. 
Penn State Health has seven board-certified Mohs surgeons who all completed rigorous fellowship-level training in skin cancer and its treatment. They have exceptional skin cancer diagnostic and surgical expertise, including cosmetic and reconstructive surgery skills. Learn more about the Penn State Health approach to Mohs surgery.
Dermatology Research and Clinical Trials 
Penn State Health explores new ways to improve care for conditions such as acne, lupus, psoriasis, hidradenitis suppurativa and others. That means you can get some of the most promising treatments before they become widely available. Find out if a dermatology clinical trial is right for you.
Inspired Community Service Initiatives
Healthy Hair Made with Care – Dermatology Health Initiative
When she was growing up, Dr. Claire Hollins saw women around her who wore hairstyles so tight it caused them pain. 
Those hairstyles never appealed to her, she said, because of the discomfort she witnessed.
Today, Hollins, an assistant professor in Penn State College of Medicine's Department of Dermatology, regularly sees the long-term impact of those tight hairstyles. Women come to her for help with traction alopecia, or hair loss caused by repeated pulling on the hair, especially in conjunction with hair chemicals or heat.
Read more about how dermatologists are educating girls that they don't need tight, damaging hairstyles to be beautiful.
Penn State Health Dermatology at the Hershey Gardens
Penn State Health Dermatology partners with Hershey Gardens to help protect the community from the dangers of sunlight. We've donated 50 umbrellas for visitors to use, free of charge, during their visit to the gardens. Their specialized fabric protects visitors from the sun's harmful UVA and UVB rays.
2022 Sun Protection Hero Contest
Our second Sun Protection T-shirt Contest was another great success thanks to our own pediatric nurse practitioner Laurie Krnjaic. The fourth and fifth grade students of Bear Creek Elementary School in Elizabethtown, Pa., submitted a total of 454 Sun Protection Hero entries. The students made the judging very difficult with their creative drawings.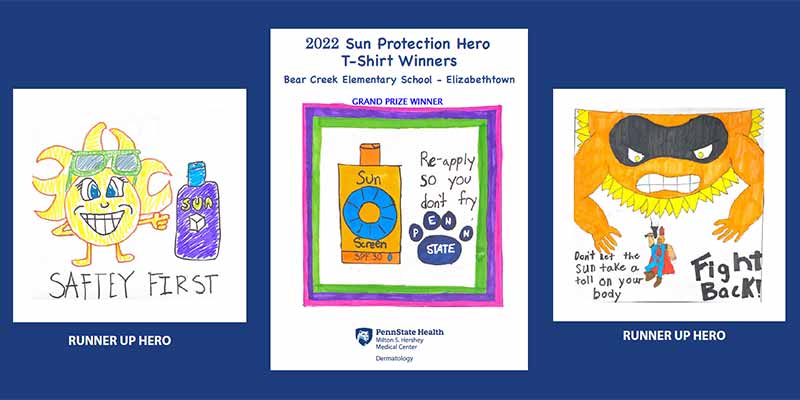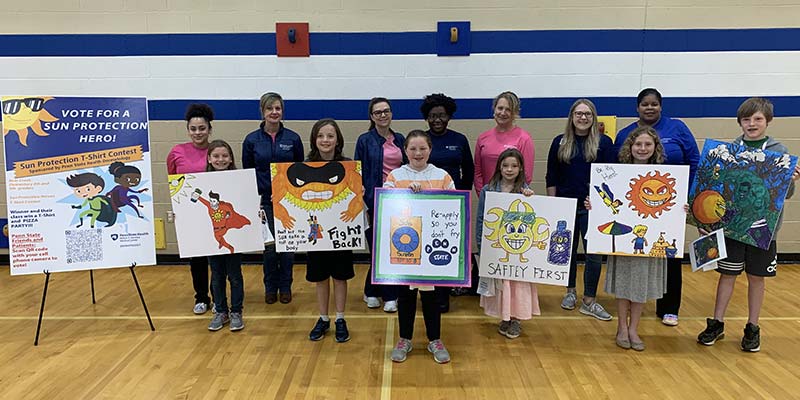 Why Choose Penn State Health for Dermatology
We're known across central Pennsylvania for our expertise in dermatology and quality, patient-centered care.
Nationally Recognized Dermatology Care
You can get the highest level of coordinated, personalized care at Penn State Health. Families choose us for our:
Well-respected dermatologists, many recognized among the Best Doctors in America. 
High patient satisfaction ratings. Our team is one of the highest ranked within Penn State Health.
Dermatology Acute Care Clinic, which improves patient access to get urgent skin problems addressed.
Multidisciplinary Skin Oncology Clinic, a pioneer in combating the growing skin cancer problem in central Pennsylvania.
Sun Protection Project, which spreads skin protection awareness throughout the community with projects such as shade pavilions, trees, umbrellas and clothing.
Expert, Team-Based Care Designed for You
Our dermatologists treat all types of skin, hair and nail problems, including those caused by autoimmune conditions or treatment side effects. Whatever your diagnosis, we can help.
We take a team approach to ensure you get the care you need to relieve all your symptoms. Our dermatologists work closely with surgeons and providers who specialize in allergy and immunology, cancer, interventional radiology and other areas to give you comprehensive care.
Support Groups
Hope for HS – Hidradenitis Suppurativa Support Group
Hope for HS is a support group for people with Hidradenitis Suppurativa (HS). Meet other individuals and their loved ones and exchange questions and experiences. The meetings are facilitated by Penn State Health Department of Dermatology clinicians, researchers and staff.
The group meetings are free and open to patients with HS and their family or caregivers. All meetings are held virtually (online). Please contact the HS chapter director at [email protected] for additional information.
Melanoma
The Melanoma Support Group has been created to provide support to Stage 3 and 4 melanoma patients and their caregivers by sharing our experiences and...
The Melanoma Support Group has been created to provide support to Stage 3 and 4 melanoma patients and their caregivers by sharing our experiences and practical information while providing encouragement, hope, networking, and educational opportunities. Structured meetings will include introductions, sharing experiences and feelings, exchanging information, and building a sense of belonging. Speakers and experts on topics of interest identified by the group members will be scheduled. We will support melanoma research through advocacy and related activities.
For more information, please contact Carol Mallon, MS, RN, AOCNS at 717-531-5784 or Mary Ellen Loser, BSN, RN, CPSN at 717-531-1657.
Convenient Locations
Find the care your family needs, close to home, at one of our many locations throughout central Pennsylvania.
Find a location near you