Recognizing the Signs of Stroke
Strokes are medical emergencies that require immediate attention. The experts at Penn State Health Stroke Center are available 24 hours a day, seven days a week to evaluate and treat patients.
To recognize the signs of a stroke, remember to BE FAST: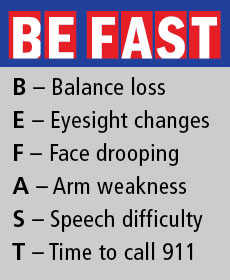 B – balance loss
E – eyesight changes
F – face drooping
A – arm weakness
S – speech difficulty
T – time to call 911
Caring for All Types of Strokes
Strokes are the fifth-leading cause of death and disability in the United States. A stroke or cerebrovascular accident (CVA) occurs when a blood vessel in or around the brain either becomes blocked or ruptures. When this happens, oxygen-rich blood can't reach the areas of the brain beyond the blockage. Without enough oxygen, brain tissue quickly begins to die.
There are two types of stroke: ischemic (blood vessel blockage) stroke and hemorrhagic (bleeding) stroke. Ischemic stroke results from either a blood clot (thrombus) or a small piece of a clot that breaks off (embolus).
A hemorrhagic stroke occurs when a brain blood vessel bursts. There are two types of hemorrhagic stroke: subarachnoid hemorrhage and intracerebral hemorrhage.
TIA Mini-Stroke
A transient ischemic attack (TIA), also referred to as a "mini-stroke" or "warning stroke," is a dangerous red flag that a more significant stroke is possible.
A TIA occurs when a blood clot blocks a blood vessel leading to or inside the brain. TIA symptoms match stroke symptoms but only last for one hour or less — meaning the blockage is temporary. TIAs are a serious sign of a stroke and should not be ignored.
Symptoms, Diagnosis and Outlook
Symptoms
If you or a loved one are experiencing stroke symptoms, seek medical attention right away.
Stroke symptoms depend the part of the brain is damaged. In some cases, you might not know that you've had a stroke.   
Most of the time, stroke symptoms develop suddenly without warning. Headaches can be a significant warning sign, especially if the stroke is caused by bleeding in the brain. Stroke headache warning signs include:
Starting suddenly
Severe and painful
Worse when lying flat
Wakes you up from sleep
Gets worse when you change positions or when you bend, strain or cough
Additional stroke symptoms include:
Change in alertness (including sleepiness, unconsciousness and coma)
Changes in hearing or taste
Changes that affect touch and the ability to feel pain, pressure or different temperatures
Confusion or loss of memory
Dizziness or abnormal feeling of movement (vertigo)
Eyesight problems, including decreased vision, double vision or total loss of vision
Lack of control over bladder or bowels
Loss of balance or coordination, including trouble walking
Muscle weakness in the face, arms or legs - most often just on one side
Numbness or tingling on one side of the body
Personality, mood or emotional changes
Problems swallowing
Problems writing or reading
Trouble speaking or understanding others who are speaking
Diagnosis
To diagnose a stroke, your doctor will perform a physical exam and may also order tests to help pinpoint the type, location and cause of the stroke. These include:
Blood tests
Carotid duplex (ultrasound) to see if the carotid arteries in your neck have narrowed
Cerebral angiography or spiral CT scan angiography (CTA) of the head to look for a blood vessel that is blocked or bleeding
CT scan of the brain to determine if there is any bleeding
Echocardiogram to see if the stroke could have been caused by a blood clot from your heart
Electrocardiogram (ECG)
Electroencephalogram (EEG) to determine if you are experiencing seizures
Heart rhythm monitoring
Magnetic resonance angiography (MRA) or CT angiography to check for abnormal blood vessels in the brain
MRI of the brain to determine stroke location
Outcome
The outlook for stroke patients depends on:
Type of stroke
Damage of the brain tissue
What body functions have been affected
How quickly treatment is given
Most patients will continue to recover for weeks to months following a stroke. Problems moving, thinking and talking typically improve with time.
Experts in Care
Meet our doctors, view their profiles and select the one that's right for you.
Find a doctor near you
Why Choose Penn State Health for Care
The Penn State Health Stroke Center team includes specialists from many disciplines to evaluate and plan treatment. Your team may include neurologists, neurosurgeons, neuroradiologists, neurointerventionalists and neurorehabilitation providers dedicated to your full recovery.
Comprehensive Stroke Center Distinction
Penn State Health Stroke Center is one of only seven certified Comprehensive Stroke Centers in Pennsylvania, and the first in our area to achieve this status. This distinction means we're recognized for some of the most advanced care available across the spectrum of stroke prevention, treatment and recovery.
State-of-the-Art Diagnostic Technologies
Our center provides the latest brain and vascular imaging studies, including brain perfusion imaging. This technology allows us to make the best possible treatment decisions, as quickly as possible.
Acute Stroke Treatment When It's Needed Most
When emergency treatment is needed, we provide fast, advanced care, such as acute intravenous tPA (clot buster) therapy. This noninvasive therapy, given as an injection within a certain time frame after a stroke, may mean better outcomes for some stroke patients.
We also offer acute endovascular thrombectomy (EVT) procedures to remove a blood clot from blocked brain blood vessel using newer surgical devices. In fact, we were the first to use the Solitaire FR Device. This technology combines a stent (a mesh-like tube typically used to push open narrowed blood vessels) and a retriever (a grasping tool usually used to remove blood clots). The combination effectively opens up blocked brain arteries during a stroke.
TeleStroke Program Saves Lives
The TeleStroke Program is a dedicated partnership between our stroke care experts at regional community hospitals. The program allows our partner emergency departments to consult with a Penn State Health stroke expert without physically being at our hospital.
This leading-edge telehealth program means you can get advanced care from the Penn State Health Stroke Center closer to your home.
Benefit from Stroke Research
We are involved in important clinical research trials. These studies focus on acute treatments, prevention strategies and stroke recovery. You may benefit from our findings at every point of your care journey.
Focus on Stroke Prevention
Penn State Health Stroke Center is one of the premier academic medical centers in the northeast. We have been honored in numerous national and regional rankings for stroke quality, patient safety and physician and nursing excellence.
In addition to excellence in stroke care, our team also focuses on prevention. We offer:
Primary and secondary stroke prevention, optimizing the management of various stroke and vascular risks and appropriate medical therapy.
Individualized treatment approach for all patients, addressing and optimizing treatment for all relevant risk factors.
Continued care in the inpatient and outpatient settings, as well as telehealth when applicable.
Awareness about stroke warning signs and risks.
Support Groups
Support groups provide an opportunity to share your feelings and connect with other patients and caregivers who are experiencing similar struggles.
Convenient Locations
Find the care your family needs, close to home, at one of our many locations throughout central Pennsylvania.
Find a location near you
Our Experts in Stroke Care
Penn State Health stroke experts offer a variety of treatments and services for stroke, vascular formations and brain aneurysms.