Focus on Fertility: Building a family through IVF
By: Leslie Penkunas
It was supposed to be easy.
Aubrey Schanz and her wife Kristin were young, healthy and presumably fertile. They were only pursuing in vitro fertilization - IVF - because they were two women having a baby. In February 2019, they selected a donor from a sperm bank and then underwent an egg retrieval. It yielded just a few eggs that resulted in three embryos.
The first embryo transfer into Aubrey's uterus failed. As did the second attempt, leaving her with just one remaining frozen embryo. Her care team at a previous facility, including Michele Munch who now sees patients at Penn State Health Leader Heights, ordered tests to learn possible reasons why the transfers didn't take. They showed her uterus as "receptive."
Aubrey and Kristin, now 26 and 36, respectively, tried again. This time, she had what's called a chemical pregnancy, a very early miscarriage that occurs when an embryo implants in the uterus and then stops growing at a very early stage. "Now we were out of embryos and devastated," Aubrey said.
They'd also exhausted their finances, maxing out the credit card they'd dedicated to IVF.
"Not only is a failed transfer devastating just in itself," Aubrey said. "Knowing that we had that financial burden still waiting for us? That's salt in the wound."
'Worth every prick'
Aubrey and Kristin paused several months and then started the process all over again, including daily shots to help the ovaries release multiple eggs at once as well as frequent blood tests. This time, more eggs were retrieved, yielding more embryos. Aubrey received a fresh transfer of two while the remaining two were to be frozen - which they later learned weren't strong enough for that process. Aubrey was down to just the two embryos inside of her. Luckily, one implanted. An ultrasound at 5 1/2 weeks confirmed a healthy heartbeat.
The couple was overjoyed and invited family and friends to an outdoor gathering when Aubrey was 12 weeks along. There, with cactus-themed décor, they announced their pregnancy. On a rustic table they'd pinned a photo of their sonogram. And hanging from a clothesline was a onesie customized with line drawings of cacti above three words: "Worth every prick."
The couple welcomed son Kyler into the world in November 2021.
"He's our miracle boy," Aubrey said.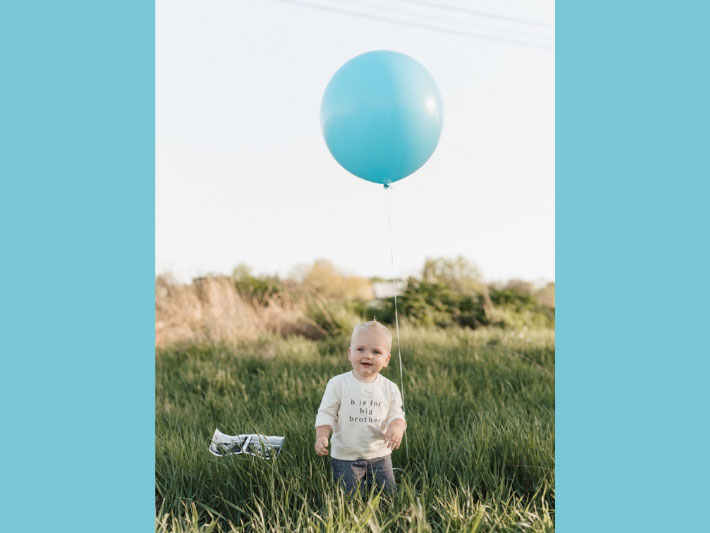 Trying for a second child
Aubrey and Kristin wanted their son to have a sibling. They went back to their beloved nurse practitioner, Michele Munch, in summer 2022 and started IVF again.
They ended up with five embryos, which they stored at Penn State Health Milton S. Hershey Medical Center. Aubrey had a transfer in October. Soon, she tested positive for pregnancy, but the numbers pointed to ectopic - in which the embryo implants outside the uterus, usually in a fallopian tube. It's a medical emergency, a life- and fertility-threatening condition for the mother.
The implanted embryo didn't show up on ultrasounds. Aubrey's care team gave her two doses of methotrexate over the course of a week to stop her pregnancy.
"It was traumatic, especially when the first shot didn't work," she said, adding that she'd been scheduled for emergency surgery to remove her fallopian tubes if the second dose was also ineffective.
Aubrey waited a few months to allow her body to recover fully. And on Feb. 20, 2023, she had a successful embryo transfer at the Milton S. Hershey Medical Center. In late April, she and Kristin shared their happy news with family and friends by having Kyler wear a "b is for big brother" shirt while holding a blue balloon. His little brother is due in early November.
"It's been quite the journey," Aubrey said, thanking her wife for her incredible support. "I couldn't have done it without her." She also credits Michele Munch and the reproductive endocrinology and infertility care team at Penn State Health Leader Heights.
"Everyone there is like family," she said, as she and her wife focus on expanding theirs.