We're ready to see you now
Exceptional heart and vascular care is about access to highly skilled specialists and innovative technology. And it's about timely, compassionate care close to home and your support system. When you choose Penn State Health for heart and vascular care, we'll offer you your first cardiology or surgery appointment right here in Berks County within five days.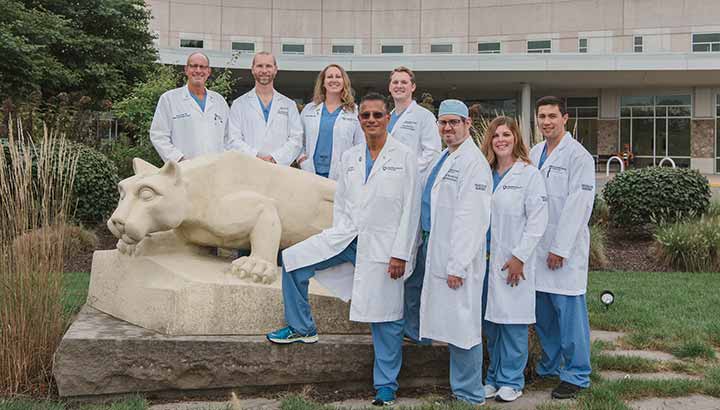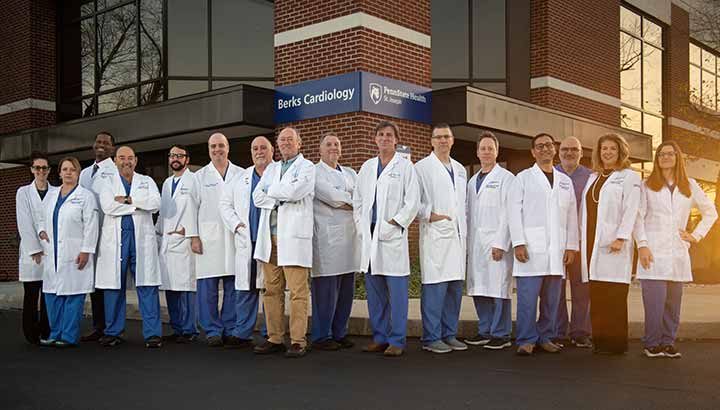 Advanced, comprehensive care close to home
Penn State Health provides the most advanced diagnosis and treatment of heart and vascular conditions in Berks County at St. Joseph Medical Center and convenient locations in the community. Whether you want to lower your risk of cardiovascular disease or need immediate treatment, you can count on expert care and personal attention from skilled, experienced doctors, nurses and technologists. If higher-level heart treatment is needed, our heart team is backed by the advanced expertise of Penn State Heart and Vascular Institute in Hershey.
Treatment based on your needs
We use the latest approaches to find heart and vascular disease and develop treatment based on your needs. Our doctors specialize in minimally invasive, traditional and hybrid (combines minimally invasive and open surgery approaches) procedures. Our Cardiac Rehabilitation program helps you recover from cardiovascular disease and learn how to eat better, exercise and maintain good health for life.
We treat the full spectrum of heart and vascular disease:
Aortic aneurysm
Arrhythmia (heart rhythm disorders like atrial fibrillation or AFib)
Congenital heart disease (adult and pediatric)
Coronary artery disease
Carotid artery disease
Heart attack
Heart failure
Hypertension/high blood pressure
Peripheral artery disease
Structural and valvular heart disease (including aortic valve disease)
We're investing in leading-edge technology for you
Because you've made Berks County your home, we're committed to providing you care for even the most complex heart and vascular conditions without the need to travel to Philadelphia or Baltimore. Penn State Health is recruiting a growing number of expert vascular surgeons, cardiothoracic surgeons and cardiologists and continues to invest in leading-edge technology that benefits patients right here in Berks County: 
A new electrophysiology laboratory fully equipped with state-of-the-art technology to help improve the quality of life for patients with chronic or potentially dangerous heart rhythm problems
A hybrid cardiac suite that combines the features of a cardiac catheterization lab with those of an operating room to enable more complex interventions for structural and coronary heart disease and endovascular aneurysms
A full spectrum of non-invasive cardiac imaging technology including PET/CT scan and an industry-leading MRI that adapts to your body for a more precise, fast and comfortable exam
Innovative medical device technologies that offer less-invasive procedures and quicker recovery, such as the WATCHMAN, which reduces the risk of stroke in patients with atrial fibrillation, TVAR, which is a minimally invasive option for aortic valve replacement, and Transcarotid Artery Revascularization or TCAR, which treats carotid artery disease
Nationally recognized cardiovascular care
Penn State Health St. Joseph Medical Center has earned national recognition for the exceptional care we offer patients in Berks County. 
Our latest awards:
Spring 2023 "A" Hospital Safety Grade from The Leapfrog Group
Healthgrades® Five-Star Recipient for Treatment of Heart Attack
2022 American College of Cardiology's National Cardiovascular Data Registry Chest Pain–Myocardial Infarction Registry Platinum Performance Award
2023 American Heart Association's Get with the Guidelines – Heart Failure Gold Plus with Target: Heart Failure Honor Roll and Target: Type 2 Diabetes Honor Roll
The Joint Commission's Advanced Primary Stroke Center Certification
The Joint Commission's Advanced Certification in Heart Failure
Lifesaving Emergency Care
The Emergency Department at Penn State Health St. Joseph Medical Center is open 24 hours a day, seven days a week, to handle injuries, illnesses and life-threatening medical emergencies. Our compassionate, highly trained emergency medicine physicians and clinicians specialize in the assessment and treatment of heart and vascular patients. From their partnership with Emergency Medical Services to the team approach with the specialty clinicians in our new catheterization laboratory, they are focused on achieving the best long-term outcomes for all patients.
Our clinical trials offer life-changing therapies
Our cardiovascular specialists are committed to preventing heart and vascular disease and finding better treatments. Our researchers continue to advance the field with groundbreaking, lifesaving research, focused on arrhythmias and heart failure, heart devices, minimally invasive approaches, vascular surgery and more.
We offer convenient locations
Penn State Health St. Joseph Medical Center
2500 Bernville Road
Reading, PA 19605
610-378-2000
Cardiology Appointment
Call to schedule an appointment at one of our convenient locations, 610-685-8500.
Penn State Health Medical Group – Berks Cardiology
2605 Keiser Blvd., Lower Level
Wyomissing, PA 19610
Penn State Health Exeter Outpatient Center
3970 Perkiomen Ave., Suite 102
Exeter Township, PA 19606
Penn State Health Robesonia Outpatient Center
410 E. Penn Ave.
Robesonia, PA 19551
Cardiac Rehabilitation and Supervised Exercise Therapy for Peripheral Artery Disease
Penn State Health Spring Ridge Outpatient Center
2605 Keiser Blvd., Suite 200
Wyomissing, PA 19610
610-927-3168, option 3
Heart and Vascular Imaging and Testing
Penn State Health St. Joseph Medical Center
2500 Bernville Road
Reading, PA 19605
Penn State Health Spring Ridge Outpatient Center
2605 Keiser Blvd., Upper Level
Wyomissing, PA 19610
Surgery Consultation
Penn State Health Heart and Vascular Surgery
St. Joseph Medical Center
Medical Office Building
2494 Bernville Road, Suite 201
Reading, PA 19605
610-378-2676
Meet vascular pain patient Gayle Sallada